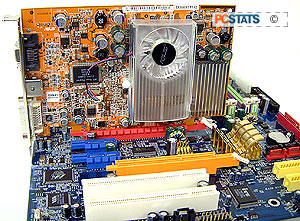 Albatron motherboards have traditionally been very nice at overclocking, so let's see where the PX915P-AGPe can take us. Starting at 200 MHz, we slowly raised the FSB of the motherboard to pass the 216 MHz mark. This frequency is the point at which Intel locks down the 915P chipset, so getting past that is good news. At 220 MHz FSB the PX915P-AGPe ran into a few stability problems, but raising the memory voltage to 2.8V fixed things. Continuing the overclock to 226 MHz, an increase in the voltage to the 915P (to 0.2V+) and CPU voltage to 1.42V was also due.
In the end, the PX915P-AGPe PCstats tested was overclocked to 247 MHz FSB.
The Albatron BIOS: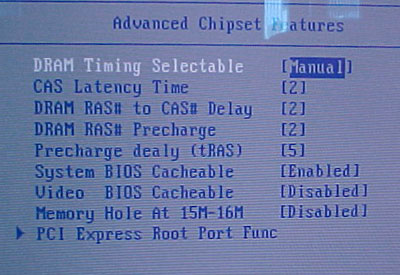 As usual, Albatron includes all the necessary memory timing adjustments we'd expect from a high performance motherboard; CAS Latency, RAS to CAS and RAS precharge.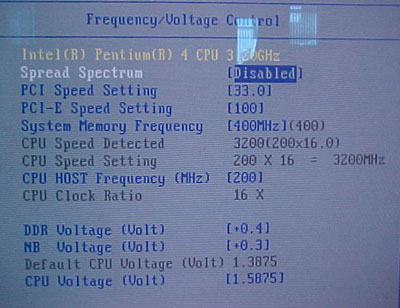 It's in the Frequency/Voltage Control where the Albatron PX915P-AGPe starts to shine. You can adjust the PCI Express frequency, although it's best to leave it at stock speeds. You can run the memory at 533, 400 or 333 MHz mode. The maximum voltage you can add to the memory is 0.4V+, Northbridge 0.3V+ and maximum CPU voltage is 1.5785V.

PCStats Test System Specs:
processor:

intel pentium 4 3.2e

clock speed:

16 x 200 mhz = 3.2 ghz

motherboards:

gigabyte ga-8anxp-d (925x)*
gigabyte ga-8gpnxp (915p)**
albatron mars px915g pro (915g)**
albatron mars px915p-agpe (915p)*

videocard:

albatron trinity pc5900*
gigabyte gv-nx57128d**

memory:

2x 256mb samsung pc3700 (ddr2)
2x 256mb corsair twinx 3200ll

hard drive:
40gb western digital special ed
cdrom:
nec 52x cd-rom
powersupply:
vantec 400b ion
software setup

windowsxp build 2600
intel inf 5.10.1012
forceware 60.85

workstation benchmarks

sysmark 2004
business winstone 2002
content creation 2002
winbench 99
sisoft sandra 2004
super pi
pcmark2002
pcmark04
3dmark2001se
aquamark3
comanche 4
x2: the threat
ut2003
* - albatron geforcepcx 5900 videocard used. * - gigabyte geforcepcx 5750 videocard used.