Albatron Mars PX915P-AGPe Motherboard Review
---
Albatron has made incredible progress since the company was founded by late Gigabyte CEO, Jack Ko, a few years ago. In fact, Albatron have advanced to the point where I think we can consider them a tier 1 manufacturer. If not for reasons of volume, for the type of quality we see so consistently demonstrated.
With 2004 a transition year for Intel, it has been a very expensive proposition for users to fully modernize their machines. This is where the Albatron Mars PX915P-AGPe motherboard comes into play. It fills in the gap set forth by the socket 775 Intel Pentium 4 and Intel 915 chipset which require users to adopt PCI Express graphics solutions. Or course, this board will support a PCI Express x16 videocard (4GB/s bandwidth), but it also has a AGPe slot that is compatible with 8X AGP videocards. Furthermore, since the PX915P-AGPe is built around the Intel 915P core logic and ICH6 southbridge, it makes use of standard dual channel DDR memory, not DDR-2 RAM.
Either type of videocard can be used, even at the same time. Although, we should point out that the AGPe (AGP extension) slot is not necessarily equal to that of an 8X AGP slot, as it runs through the PCI bus. The flexibility is nice, and makes it the major selling point of Albatron's PX915P-AGPe motherboard.

Albatron Mars PX915P-AGPe



Includes:

Users Manual, Quick Installation Guide, Three Ultra/133 IDE Cables, Floppy Cable, One Serial ATA Cable, One Molex to Serial ATA Power Cable, IO Backplate, USB Header, Driver CD
Other standard features include a IDE RAID controller, 7.1-channel Intel 'Azalia' audio, four SATA headers, eight USB2.0 ports, and two onboard Ethernet LAN connections; the first Gigabit and the second a 10/100 NIC. The board features four 184-pin DDR sockets which will support up to 4GB of PC2700/3200 RAM, two PCI Express x1 lanes (250MB/s bandwidth), two PCI slots, and the aforementioned AGPe and PCI Express x16 slots. With a front side bus of either 533MHz or 800MHz, any speed of Intel socket 775 'Prescott' Pentium 4 processor is supported.
Around back on this full size ATX board, are the I/O ports. The only ones really worth noting are the twin network adaptors, and 6 mini-headphone jacks which work with Intel's 'High Definition Audio' codec, otherwise also known as 'Azalia.' Intel's HDA is a move to improve the sound we used to be getting from puny little AC'97 codecs, and it really does make good strives in that department.
Heatsink and Socket 775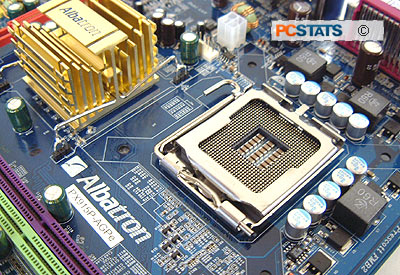 As you know, socket 775 heatsinks are significantly larger than the old standard socket 478 cooler was. Because of this thermal solution increase in size to roughly 90mm in diameter, you may notice that good motherboard manufacturers use higher quality electrical components around the CPU socket - technically called 'Socket T' - which have a compact size necessary to keep them close to the socket, and out of the way of the heatsink.
The capacitors for example are like the kind found on videocards, due to a low profile requirement so they can remain under the edge of the heatsink. Also, the EMI filters typically used on motherboards (a ferrite toroid wrapped in copper wire) have been substituted for a higher quality, low profile version that sits flat on the PCB surface (the flat gray cubes in the picture below).
These components are used on the Albatron PX915P-AGPe, and fulfill their role in the supporting circuitry for the Prescott Pentium 4 processor, and for providing a clear space for the heatsink to mount. It may be worth your while to be a little wary of motherboards which use more generic parts here...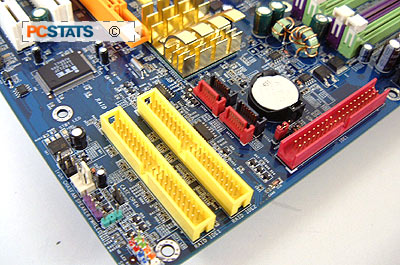 Power Connections
In the long list of components which Intel engineers specified for the new processor formfactor, is the 24-pin ATX power connector. With the spirit of backwards compatibility in mind, the Albatron PX915P-AGPe is compatible with standard 20-pin ATX power supplies. So, for the moment you do not need to upgrade your power supply either, though you will need one with the 4-pin auxiliary 12V connector.
With both the 915P and 925X chipsets placing a lot of emphasis on Serial ATA devices, we were pleased to see that the Albatron Mars PX915P-AGPe includes an IDE RAID controller, and two extra IDE channels for a total of four SATA headers. IDE drives will continue to live on for quite some time, and this also allows users to move their old hard drives onto the PX915P-AGPe without having to buy an additional PCI-based IDE controller.
Last but not least are the four DDR memory slots for dual channel RAM. The Albatron Mars PX915P-AGPe uses standard DDR RAM instead of the more expensive DDR-2 memory. Yet one more component users can utilize from their older systems as the switch from socket 478 Pentium 4 to socket 775 Pentium 4 is made. Now let's take a closer look at those two videocard sockets!