After some discussions for and against removing overclocking benchmarks from PCstats reviews altogether, we have decided to change how we do things. From now on, PCstats reviews will simply list the maximum overclocked speed a motherboard is able to achieve here, rather than for each benchmark.
Since overclocking can be a very subjective skill, it just makes more sense to keep our benchmarks focused on the stock performance of system components. Plus, by listing the maximum overclocked speeds of various motherboards here, you'll have a better idea of which manufacturer really does produce the best goods for enthusiasts!
Maximum Overclocked Speeds - PCstats Results

Intel Motherboard Results

Chipset

FSB

Ranking

Albatron PX915P-AGPe
915P
247 MHz
Albatron PX915G Pro
915G
244 MHz
Gigabyte GA-8ANXP-D
925X
216 MHz
Gigabyte GA-8GPNXP
915P
216 MHz
As we see here the Albatron PX915P-AGPe is easily the best Socket 775 motherboard we've ever tested in terms of overclocking! Not too bad at all, Albatron!
A motherboard with a lot of options!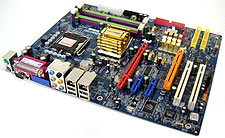 It should be fairly obvious that 2004 is a transition year and Albatron has done their best to make things less costly for consumers. First, since DDR2 memory does not provide any performance gain over traditional DDR, the Albatron PX915P-AGPe just uses DDR memory. Second, IDE drives and devices are still a lot more popular than Serial ATA, and including an additional IDE RAID controller means users can move their existing HDDs over to the new system. Lastly, having the ability to run an AGP videocard (albeit in AGPe mode) makes upgrading much easier!
From the results we've seen, the performance of the Albatron PX915P-AGPe motherboard is very good. Often the Albatron PX915P-AGPe would challenge for top spot in the benchmarks. In the 3D tests, we saw that running a high performance videocard like the Albatron GeForce 6800GT through the PCI bus limits the card's potential, but is still doable for gaming - that's good, because the AGPe socket is the major selling point of this 915P-based motherboard. When it comes to overclocking, Albatron is in a league of their own. The PX915P-AGPe was able to hit a very respectable 247 MHz FSB!
Albatron was clearly thinking about consumers who upgrade their systems often, and the PX915P-AGPe is easily one of the better boards we've played with recently. If you want to jump on the Socket 775 bandwagon but can't afford to go all the way at once, the Albatron PX915P-AGPe offers you a very flexible platform!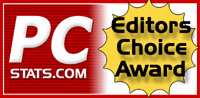 Find out about this and many other reviews by joining the Weekly PCstats.com Newsletter today!

Related Articles

Here are a few other articles that you might enjoy as well...

1. Epox 8KDA3+ nForce3 250Gb Motherboard Review
2. Asus P4R800-V Deluxe Motherboard Review


3. Albatron PX875P Pro Motherboard Review