PowerColor X700 PRO Videocard Review
---
Call me a snob, but I until recently I never would have considered using anything but a high end card in my main computer. Yey, now that I look around, the mainstream videocards of today are really starting to appeal to me; with decent performance and wallet friendly prices they are quite attractive.
Videocards based on the ATi Radeon X700 VPU and nVIDIA GeForce 6600 GPU are extremely quick, and offer a great deal of value. In many instances, these new mainstream cards are as fast, or faster than the previous generation's top of the line models. This is quite significant when you consider that historically it has taken two generations (or sometimes more) for a high-end card to fall to mainstream performance levels.
If you were to compare the specs of the ATI Radeon X700 to the nVidia GeForce 6600 cores, ATi comes out on top ever so slightly due to the potentially stronger vertex engine. With six vertex rendering pipelines, the Radeon X700 should beat out the GeForce 6600 in rendering images that have a lot of polygons.
In this review PCSTATS is testing out the PowerColor X700 PRO videocard, which is obviously based around the Radeon X700 Pro VPU. The videocard is native to PCI Express, using the PCI Express 16x slot. It comes packing 128MB of Samsung GDDR3 memory, and that runs on a 128bit memory bus. A similar solution by Gigabyte (the GV-RX70P256V) used a passive heatsink, but the PowerColor X700 Pro uses an active cooling solution. It is still very quiet, and you're unlikely to notice this card once it's installed and running into your PC.
Powercolor's software bundle includes CyberLink's DVD solution software with PowerDirector SE+, MediaShow SE, PowerDVD, PowerProducer DVD and Power2Go. Also thrown into the mix is a copy of Hitman Contracts, an older game, but still a lot of fun.

PowerColor X700 PRO



Includes:

Users Manual, Driver CD, CyberLink DVD Solutions, Hitman Contracts, Composite-Composite Cable, S-Video-S-Video Cable, S-Video-Composite Cable, Component Out Cable, DVI to analog converter
The unit on PCSTATS test bench has 128MB of memory, which is why you see the silk screened spots on the back for four more BGA DRAM modules. There's no performance difference between the 128MB and 256MB models though, and the PowerColor X700 PRO has more than enough memory to handle the latest games.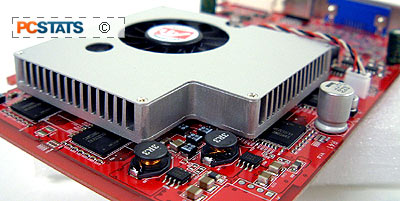 The Radeon X700 PRO VPU does not generate a lot of heat, so PowerColor can cool the core with a small aluminum HSF. The heatsink does not cover the memory. GDDR3 modules run pretty cool by default. Even when overclocked, the Samsung BGA memory modules were only mildly warm to the touch.
We were pleased to see ATi integrate component output support into the Radeon X700 core. Every X700-based card owner should have not have any problem connecting to HDTV sets with the included set of component cables (Y, Pb, Pr). Along side that comes an S-Video-to-S-Video cable, composite-composite cable and a two way composite-S-Video cable for regular TV sets. The PowerColor X700 PRO's bundle does not include any kind of breakout box for these outputs; instead, all the cables connect to a single proprietary 'tv-out' connector on the mounting bracket. Users only have the option of using one or the other cable type.
I was impressed to see how well detailed and thorough the PowerColor X700 PRO's manual was. For those who are new to computers, this is a great feature that should set you on the right track. The software package that comes with this videocard is remarkably thin considering its price, but Hitman Contracts is a fairly decent game that will keep you busy shooting for a weekend or two.