Interestingly, the choice of which method to use in which games is pre-programmed into the Detonator driver suite, meaning that if there is no existing profile for the game you are playing, SLI will not work with that game. In these cases, a compatibility mode is used, which cuts off the SLI process completely, using only a single GPU (and we'd assume only 8 PCI-Express lanes) for all rendering tasks.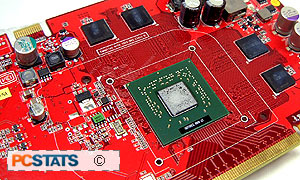 nVIDIA claims that they have already created profiles for more than 100 of the most popular 3D games, and more will follow with Detonator driver updates.
The Split Frame Rendering mode is probably the most interesting part of nVIDIA's SLI technology. Using the Detonator driver to balance and allocate the video load, each GPU shares about half of the rendering work for each frame, then the completed frame is assembled by the first primary GPU and output to the PCI-Express x16 bus.
Obviously this will not be 100% efficient, as different parts of each graphical frame will vary in complexity and some overhead is added in assembling the frame at the end, but overall this method should result in a considerable performance increase. You can expect CPU load to increase as well, since the Detonator software is responsible for balancing the video load to each card at all times.
Alternate Frame Rendering mode, where a frame is rendered separately on each video card, should give even higher performance, but this technology cannot always be used on modern 3D games due to certain graphical effects which require multiple frames to be blended together. Split Frame Rendering has no such limitation as both cards are always working on a single graphical frame.
The major benefit of nVIDIA's SLI is its ability to more fully utilize the massive bandwidth of the PCI-Express x16 video solution. A pair of GPUs can process information twice as fast (minus the overhead of the communication between them) and use the available bandwidth more efficiently, considerably boosting 3D performance. This should also enable users to get top-tier performance out of a pair of mid-range 6600GT cards. Interested users should note that having two videocards also considerably increases power consumption, and using a pair of 6800 Ultras will mandate a hefty 400W power supply the very least.
Setting up SLI
Physically setting up SLI is not very difficult at all. Most SLI-compatible motherboards on the market require you to make a hardware adjustment before the second videocard can be recognized. This might involve flipping a switch or setting jumpers or dip switches but once that's done, all that is left is installing the two SLI-compatible videocards into their separate PCI Express x16 slots. Next comes configuring the software.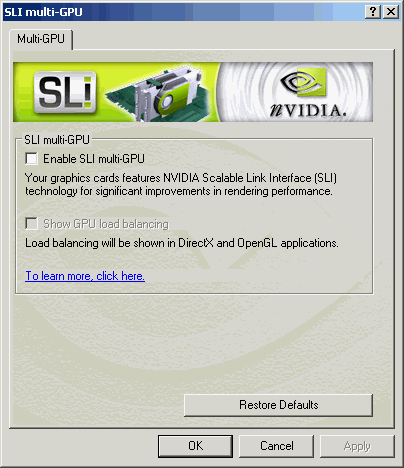 If you haven't installed the nVIDIA drivers, you'll have to do that first then reboot your system. If you have the latest drivers installed already, when you get to the desktop a yellow message window will open in the taskbar stating that the system is now SLI compatible. Click that and the SLI multi-GPU window will open. From here, simply check the 'Enable SLI multi-GPU' check box then hit the ok button. You'll need to reboot, but once that's done you can enjoy all the SLI goodness.