Dual MSI NX6600GT-TD128E SLI Videocard Review
---
As an enthusiast I'm less than impressed with the last few years under ATi's rule; they've been turbulent at best... and not especially innovative. Faster high-end videocards have been plentiful, yes, but we've seen the middle and low-end components just stagnate in terms of performance until very recently.
Technology seems to have progressed more evenly when nVIDIA was on the top, and ATi nipping at its heels. Manufacturing problems and the FutureMark 3DMark03 fiasco have tainted nVIDIA's reputation, but perhaps the company is ready to take charge of the 3D market once more. Is it a coincidence that we're seeing higher performing mainstream/low end products again?
What ever the situation, there's no doubt that nVIDIA's GeForce 6600GT is the best mainstream core on the market right now. A single GeForce 6600GT-based videocard is about as quick as last generation's Radeon 9800XT/GeForceFX 5950 Ultra cards, and then there is the "SLI factor."
On PCstats test bench today are a pair of MSI Computer NX6600GT-TD128E videocards that are literally made for each other. Based around the GeForce 6600GT core, both cards are backed up with 128MB of memory on a 128-bit bus. The NX6600GT-TD128E is based on thePCI Express x16 video slot. Goodies included along with the fire engine red videocard are a DVI-to-analog converter, an S-video/composite/component video break out box, and an SVideo-to-SVideo cable.

MSI NX6600GT-TD128E Videocard



Includes:

Users Manual, Quick Installation Guide, Driver CD, MSI 3D Software, WinDVD, WinDVD Creator, Restore It!/Virtual Drive CD, Software Super Pack CD, 14 in 1 CD, URU CD, Price of Persia CD's, XIII CD's, DVI to analog converter, S-Video to S-Video cable, video-out cable
MSI typically bundles heaps of software with its videocards, and things are no different for the NX6600GT-TD128E. Included with the card are 15 CD's worth of games and software; from system utilities like Restore It! and Virtual Drive, to full version games like URU, Prince of Persia and XIII.
The red PCBs are quite pretty and will no doubt will add to the 'coolness' factor of any computer with a window. PCI Express x16 slots can supply videocards with a lot more power than their AGP counterparts, so no extra power connector is required either. MSI has always been good at keeping their products quiet and this pair of NX6600GT-TD128Es hum away rather softly.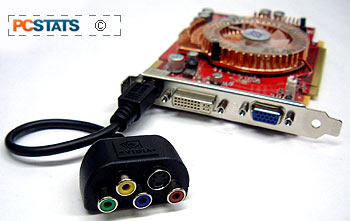 Watching a movie on the computer is ok when you're by yourself, but it's not as fun as watching one on a large TV screen with friends and family. With the MSI NX6600GT-TD128E videocard, hooking up the PC to a regular TV or HDTV is possible thanks to the component video-out cable.
MSI includes an S-Video-to-S-Video cable but no extra component cables. I can understand the reasoning behind this, since the quality of the component cables makes a big difference in picture quality. By not including them, MSI saves users a few dollars, and so they can buy what they need later.
If you do plan to run a SLI setup for your system, you'd better make sure that you have good airflow in your case. The top videocard inevitable runs much hotter than the bottom card, and this can cause some real problems if you decide to overclock.