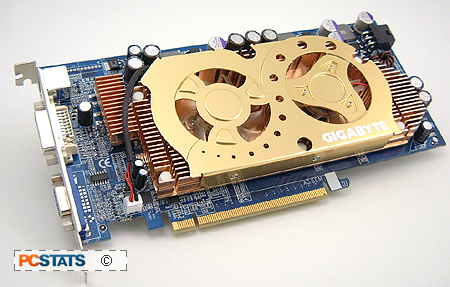 When it comes to innovation in the computer world, Gigabyte has really stood up to the plate with this videocard. The GV-3D1 is the first PCI Express videocard on the market that has two GeForce 6600GT cores on one PCB, and is SLI ready (with compatible motherboard) right out of the box.
If you're interested in the Gigabyte GV-3D1 you'd better have a big tidy case as the card is quite long. GeForce 6600GT videocards usually don't run too hot but when you put two of them together on the same PCB heat is definitely an issue!
To counter this Gigabyte a huge copper plated aluminum heatsink on the front of the videocard with two 50mm fans. During testing the card still ran quite warm with the heatsink temperature between 45-50 degrees Celsius during benchmarking. In any case you'd better have good airflow in your system if you plan to install the GV-3D1!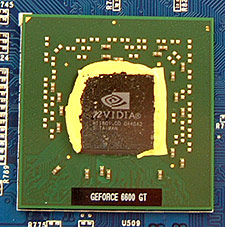 While a dual-core SLI single-slot solution videocard has a lot of potential, since SLI motherboards are quite expensive, in its current form the Gigabyte GV-3D1 is rather limited. The problem lies in how the PCI Express bus is split between the two cores; apparently a compatible motherboard and BIOS is required otherwise the first GPU ends up getting all sixteen PCI Express lanes while the second GPU gets none.
To test this we plugged the GV-3D1 into the Gigabyte GA-K8NXP-9 nForce4 Ultra motherboard and while the card worked, we could not enable SLI. If Gigabyte could only engineer in broader motherboard support that would divide the PCI Express bus properly, the appeal of this type of videocard would be much greater.
Though we failed to overclock the Gigabyte GV-3D1 even slightly in SLI mode, its stock performance was excellent, and it consistently turned in higher numbers that the other 6600GT cards in our benchmarks, even when running in single GPU mode. The faster 1120MHz memory speed of this card probably had a lot to do with these scores.
Those of you who are interested in the Gigabyte GV-3D1 might like to know that at the moment, the videocard is only sold bundled with the Gigabyte GA-K8NXP-SLI motherboard, with a retail price of $610 CDN ($499 US) for both. Considering the price of a regular SLI motherboard and two GeForce 6600GT videocards, users end up saving around $100 CDN by going this route.
The Gigabyte GV-3D1 is a great pioneer and hopefully we see more cards like it in the future!
Find out about this and many other reviews by joining the Weekly PCstats.com Newsletter today! Catch all of PCstats latest hardware reviews right here.
Related Articles
Here are a few other articles that you might enjoy as well...