nVIDIA's new SLI (Scalable Link Interface) technology is used to link two nVIDIA based cards together, splitting the rendering load between them to increase 3D performance. The technology requires a pair of compatible videocards (nVIDIA Geforce 6600GT models and above) with SLI connectors (must be implemented by the video card manufacturer) and an Nforce 4 SLI chipset-based motherboard.
Typical PCI-Express-based motherboards use the PCI-Express x16 slot to interface with video cards. As you'd imagine, this provides 16 PCI Express lanes to the single card for a total available bandwidth of 8GB/s. The nVIDIA Nforce 4 SLI solution provides two physical PCI-Express video slots, and uses a switch to divert 8 PCI-Express data lanes to serve each slot. A single card can also be used in either slot, and in this case the full 16 PCI-Express lanes are available. In a typical SLI solution, the cards themselves are also linked by way of an SLI cable attached to the special MIO 'video bus' connector on the top of each card.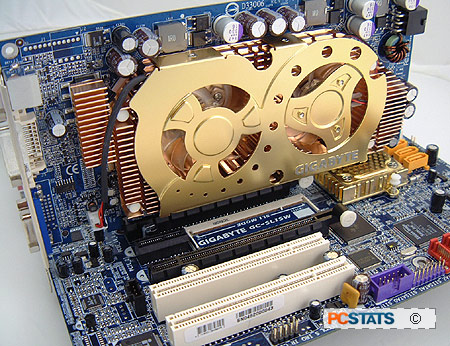 nVIDIA's SLI works by allowing the two graphical processors to share the rendering workload, governed by the nVIDIA Detonator software drivers. The CPU passes all neccessary 3D information to the 'primary' GPU, which then shares the information with the second card via the video bus interface cable. This removes the overhead of synchronizing the two processors from the PCI-Express bus, allowing improved performance. The video bus link itself apparently runs at up to 10GB/s, though we doubt that this bandwidth is fully utilized.
The major benefit of nVIDIA's SLI is its ability to more fully utilize the massive bandwidth of the PCI-Express x16 video solution. A pair of GPUs can process information twice as fast (minus the overhead of the communication between them) and use the available bandwidth more efficiently, considerably boosting 3D performance. This should also enable users to get top-tier performance out of a pair of mid-range 6600GT cards.
Gigabyte special SLI implementation
Gigabyte's unique SLI solution, as seen in the GV-3D1, approaches the technology from a different angle. Instead of two separate cards, two GPUs (6600GTs in this case) are combined on a single card, each with its own separate video memory and memory bus.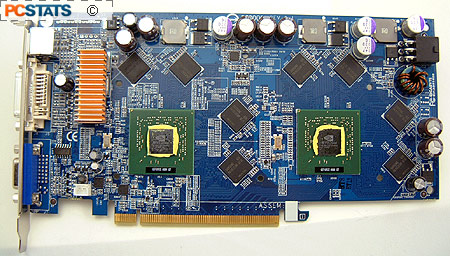 An onboard interface replaces the video bus SLI connector, but the two GPUs otherwise operate just as they would if they were on different cards. The major difference comes in the configuration of the motherboard, and this explains why the GV-3D1 currently only works with (and is bundled with) Gigabyte's GA-K8NXP-SLI board. The 16 PCI-Express lanes within the single slot that accepts the Gigabyte card are switched so that 8 feed each GPU on the GV-3D1. Compatibility with other motherboards may become available in the future, but for now Gigabyte plans to sell the GV-3D1 and the K8NXP-SLI together only.