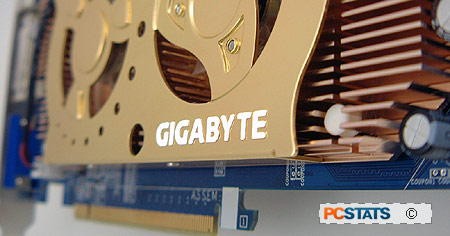 At stock speeds the Gigabyte GV-3D1 is already a very formidable videocard, but when do we ever leave well enough alone? Overclocking the GV-3D1 might be a difficult task as the two GeForce 6600GT cores together generate quite a bit of heat. As you would expect, there's only one slider available per device when overclocking an SLI setup (whether you're using RivaTuner or the coolbits registry hack) and you have overclock them together.
While we've had some luck overclocking other GeForce 6600GT based videocards we didn't really know what to expect from the Gigabyte GV-3D1. By default, both cores are clocked at 500 MHz, so we just raised the clock speed at 1-2 MHz a time. Unfortunately the GV-3D1 test card didn't seem to be up to challenge and we could not run the core even 1 MHz above stock speeds. If we did, the drivers or RivaTuner would complain about the hardware failing.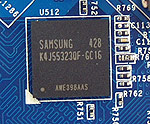 The Gigabyte GV-3D1's memory runs at 1.12 GHz by default which is 120 MHz faster than single-GPU Geforce 6600GT cards. Upon closer inspection of the videocard, we noticed that Gigabyte actually equips the GV-3D1 with Samsung K4J55323QF-GC16 GDDR3 BGA memory, and not the usual 2ns stuff! That explains the higher clock speed.
As with the cores before it, we were not able to push the memory even 1 MHz higher. If we tried, the overclocking utility would complain about the hardware failing its tests. As you can imagine we are a bit disappointed at these results, but I guess you can't win them all.
Just to test, we tried overclocking the videocard in single GPU mode. To our surprise we were actually able to overclock! The core didn't go very high, maxing out at 519 MHz, but the memory did pretty well hitting 1.23 GHz!
In any case the Gigabyte GV-3D1 is pretty quick at stock speeds and unless you're trying to break a 3DMark record, you really don't need to overclock.

PCStats Test System Specs:
processor:

amd athlon64 4000+

clock speed:
12 x 200 mhz = 2.4 ghz
motherboards:

gigabyte ga-k8nxp-sli (nf4-sli)
gigabyte ga-k8nsnxp-939 (nf3 ultra)

videocard:

msi rx800xt-vtd256e
powercolor x700 pro
albatron trinity geforce 6600gt agp
msi nx6600gt-td128
msi nx6600gt-td128e (single mode)
msi nx6600gt-td128e (sli mode)
albatron trinity pc6600
gigabyte gv-3d1 (single mode)
gigabyte gv-3d1 (sli mode)

memory:

2x 512mb mushkin pc3200 l2 v2

hard drive:
40gb wd special ed
cdrom:
aopen 52x combo drive
powersupply:
seasonic super tornado 400w
software setup

windowsxp build 2600
nforce
catalyst 4.12
detonator 66.93

benchmarks

3dmark2001se
3dmark05
codecreatures
aquamark
aquamark3
gun metal 2
x2 the threat
ut2003
doom3

aa test, af and aa+af test
3dmark2001se
ut2003
the agp and pci-e systems use a different motherboard but results are shown for reference. we were not able to run the x2: the threat aa/af tests.