Abstract: The GV-3D1 comes bundled in along with the GA-K8NXP-SLI motherboard, and at the moment will only "officially" support SLI mode on this Gigabyte board.


75% Rating:

Home > Reviews > Video Cards > Gigabyte GV-3D1
Gigabyte GV-3D1 Dual GeForce 6600GT Videocard Review
---
Each generation of videocard to grace our computers since the creation of the graphics accelerator has brought 3D performance to a higher plateau, be it mainstream, budget or high-end. Now with PCI Express and SLI technology, gamers and computer enthusiasts alike have more options than ever before.
The beauty of SLI technology is that it allows users to run two identical videocards in parallel to increase the 3D rendering power of a system! Of course, the downside is that you must have a compatible motherboard and two physical PCI Express 16x slots to take advantage of this, not to mention two physically identical SLI videcoards.
Gigabyte has come up with a very interesting alternative to the dual card SLI option; what they've done is placed two nVidia GeForce 6600GT cores and two sets of memory onto a single videocard PCB! Like a regular pair of SLI compatible cards, the two individual cores split the PCI Express 16x bus and each core gets a direct PCI Express 8x connection to the rest of the system though one standard PCI Express x16 slot. Cool huh?!
Of course, what we're describing is the very unique Gigabyte GV-3D1 dual GeForce 6600GT PCI Express videocard. It comes bundled in along with the GA-K8NXP-SLI motherboard, and at the moment will only "officially" support SLI mode on this Gigabyte board.

Gigabyte GV-3D1 Videocard



Includes:

Driver CD, Thief: Deadly Shadows, Joint Operations: Typhoon Rising, TV/S-Video/Component Break Out Box, Two molex to 6 pin 12V Power Connector
Each of the GeForce 6600GT cores on the GV-3D1 are supported with dedicated sets of 128MB of Samsung GDDR3 memory each, for a total of 256MB GDDR-3. The GV-3D1 has its cores clocked at 500MHz apiece, but the memory runs at 1120MHz - a full 120MHz over stock speeds. We'll see later what kind of performance benefits this can produce.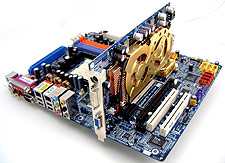 The GV-3D1 videocard goes hand in hand with the GA-K8NXP-SLI motherboard. Catch PCstats review of the GA-K8NXP-SLI nForce4-SLI, it is officially the only board the dual 6600GT GPU GV-3D1 videocard will support SLi mode with.
The Gigabyte GV-3D1 dual-GPU supports both analog and digital monitors (DVI-to-Analog adaptor included). Also included is a TV/S-Video/Component break out box and a couple full version games: Joint Operations: Typhoon Rising and Thief: Deadly Shadows as well as a copy of PowerDVD 5.0.
The Gigabyte GV-3D1 is a long card so I hope you keep your cables and system tidy. The PCB is the same length as NV40 based videocards, and on the top right hand corner of the videocard you'll find a six pin 12V auxiliary power connector. Gigabyte include a 6-pin to molex adaptor along with the card, as most power supplies have not adopted the 6-pin connector yet.
Regular GeForce 6600GT based videocards do not generate a lot of heat but when you put two of them on one PCB like Gigabyte has done, heat becomes a serious issue. To address it, the GV-3D1 has a single large copper coated aluminum HSF to cools both GPUs. The two 50mm fans are also somewhat noisy, especially when compared to standard Geforce 6600GT videocards. A temperature-controlled RPM system would have been handy....
According to a Fluke 54-II digital thermometer, the heatsink itself was around 45-50 degrees Celsius, which means GPUs are running substantially higher, and good case airflow is important. It's tough to beat the value quotient here, and the card does come with two full version games. While they're not the newest games on the market, they'll no doubt keep you busy for a good weekend or two.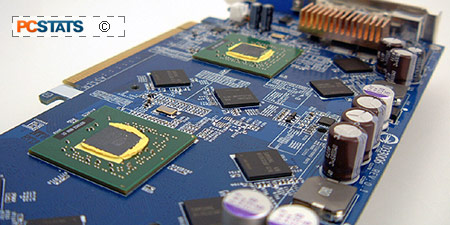 As mentioned a moment ago, the Gigabyte GV-3D1 is currently only set to fully function in SLI mode with the Gigabyte GA-K8NXP-SLI nForce4-SLI motherboard. While the Gigabyte GV-3D1 is physically compatible with any PCI Express x16 based motherboard on the market, it is "officially" only SLI compatible with that board.... (read "between" the lines). We were very surprised when we heard this tidbit of information, especially when you consider the huge potential a videocard like this has in the greater market.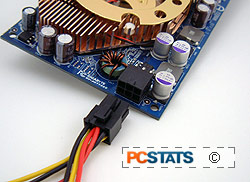 Apparently the limiting factor is the motherboard BIOS and how it would split PCI Express 16x lane between two GPUs on the same PCB, but that is mostly hearsay.
Whether Gigabyte will enable wider inter-operability in the future we can only hope. But in our opinion, if it's technically possible the GV-3D1 certainly should support SLi mode on any SLI motherboard, regardless of manufacturer.
On the bright side, if you do end up using the GV-3D1 on another motherboard, it will function like a single-GPU PCI Express videcoard quite normally. Currently, the company only plans to offer the GV-3D1 card as a bundle with its SLI-compatible nForce 4 motherboards like the GA-K8NXP-SLI.