The fire engine red Gigabyte G-Max N203 measures 283 mm wide, by 238 mm long by 34.3 mm deep, and weighs 4.6 lbs according to Gigabyte. With the battery it felt a little heavier than that to us, so that number might be 'battery not included.' The laptop is maybe a little heavier than the average 12.6" notebook, but with its additional ports and features, this is not surprising.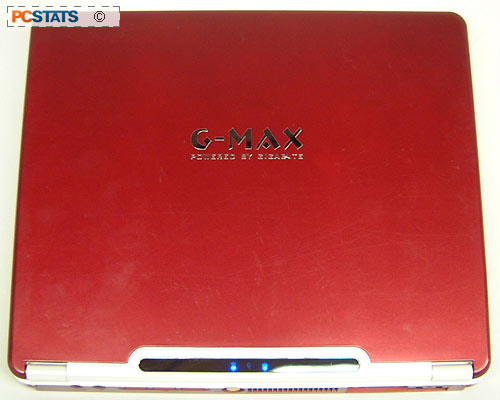 The rear of the Gigabyte G-Max N203 sports most of the I/O ports and connectors, including three USB 2.0 ports in a row, Headphone/SPDIF port and mic in, TV-Out, VGA out, 10/100 Ethernet and Modem jacks. We would have preferred to see one or two of the USB ports and the headphone jack placed on one of the sides of the laptop instead, since the rear placement is less convenient. The ideal configuration would have one port on each side, though we can understand why this would be a headache to implement.

The right side of the laptop holds the CD-RW/DVD combo drive and the volume wheel. Nothing to remark on here.

The left side sports a pair of IEEE 1394 connectors, a dual PCMCIA slot, Kensington security slot and the DC power connector. Again, we would have loved to see the 1394 connectors, which are not likely to be used much, relegated to the rear of the laptop replacing at least one of the USB 2.0 ports which would have been much more useful on the side.

Opening up the N203 reveals a plain white interior styled in a way that will be familiar to any iBook owner. A trackpad is used as a pointing device, sporting an additional 'scroll button' in between the two other buttons.

The trackpad can click up or down to emulate a scroll wheel, which is a nice touch. No trackpoint is present, which I missed since I actually really prefer using them. A set of DVD controls are mounted just below the screen on the hinge of the notebook, allowing quick access for movie viewing.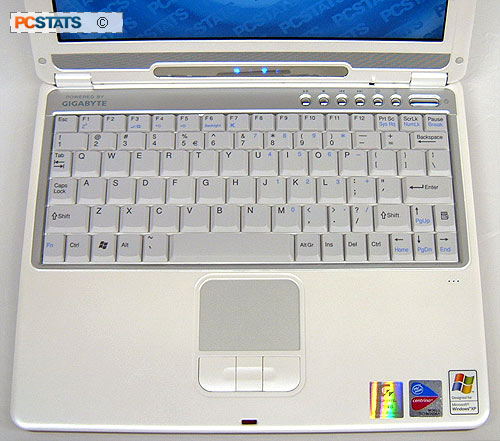 The keyboard has a key pitch of 18mm, same as a typical desktop keyboard, though the keys are obviously much flatter with much less throw. The G-Max N203 has about 2mm of key movement as opposed to the 4 or more of a typical desktop keyboard. All the keys are where you'd expect them to be.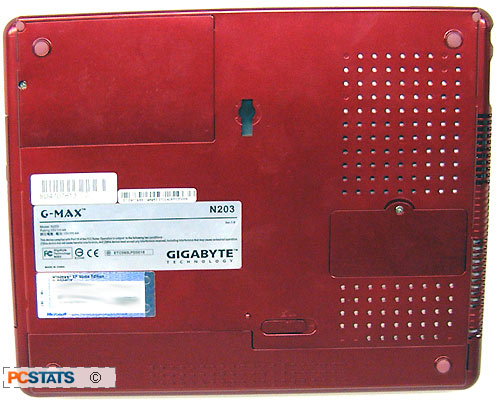 The bottom of the notebook has just two user accessible bays via screwdriver. At the upper-left is the bay for the hard drive, and towards the middle right is the cover for the one free DDR SODIMM slot. The battery is held in place at the front of the notebook with a simple recessed catch. Cooling vents for the 1.6GHz Pentium M processor line one side of the N203 notebook.