Gigabyte G-Max N203 Laptop Review
---
Kind of like a big-screen TV, everyone wants a laptop; if they've already got one, then they want a better one. Unfortunately, just as with big TVs, hard reality soon sets in when it comes to pricing the high-end laptop you are lusting after. Most people end up compromising with a midrange laptop that does most or all of what they want, but without the utter sleekness that three grand will get you.
This fact of life is something we try to keep in mind when selecting products to review here at PCstats. While it's tempting to focus only on the absolute top of the line desktop replacement gaming laptops of the world or on the ultra sleek ultra portable road warrior devices, the less sexy 'midrange' laptop is the device that most people end up actually buying.
Today we're going to take a look a Gigabyte's G-Max N203 laptop in "Ruby Red", which fits neatly into this midrange category. Features and portability are this 1.6GHz Centrino-based laptop's primary strengths, but it can also hold its own in the office computing department, as we will see a little later in the benchmarks.
Gigabyte offers two models in the N203 line, taking the unusual step of differentiating them by color. The 'Ruby Red' N203 (which we reviewed) comes with a 1.6GHz Pentium M processor and 256MB of memory, while the 'Jazz Black' version sports a 1.7GHz processor and doubles the memory to 512MB. It comes preloaded with Windows XP Home edition.

Gigabyte N203 'Ruby Red' Notebook

Quick Specs

Speed: 1.6GHz, Intel Pentium M
L2: 2MB
Core: 90 nm
FSB: 400MHz
Package: 479-pin
organic mPGA
Chipsets: 855PM/ICH4-M

Includes:
User manual, quick start guide, driver CD, carry bag, wireless optical mouse, WindowsXP Home OS, power cord & battery, phone cable, Power DVD 5 and Easy CD & DVD Creator

Further Technical Details:

---

- 1.6GHz Pentium M processor (Dothan): 400Mhz FSB, 2MB L2 cache
- Intel Centrino 855GME/ICH4-M chipset w. Intel Extreme Graphics 2 - DVMT v2.0, 64MB
- 256MB DDR333 SO-DIMM, upgradeable to 1GB (two memory sockets)
- 12.1" XGA TFT LCD display (1024x768 resolution)
- Intel PRO/Wireless 2200 (802.11b+g) wifi and Intel 10/100 Ethernet LAN
- 2.5" Ultra DMA 66/100, 40GB (4200rpm) hard drive
- DVD/CD-RW combo drive
- Full-duplex 16-bit audio, AC97 2.2, built-in dual speakers and microphone
- I/O Ports: 3x USB 2.0, VGA, RCA TV out, 2*IEEE 1394a, Mic in, Headphone out w/SPDIF, RJ11, RJ45
- 56K v.92 Fax/modem
- 4 hrs battery life by 6 cell battery pack.
Contents of Package:

We've tested out a few of Gigabyte's products in the PCstats labs recently, and we've found them to be generally excellent. Let's see if the G-Max N203 can measure up to that opinion.
Features and Specs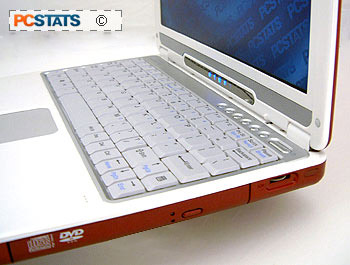 Intel's Pentium M processors have taken the laptop market by storm. It's been a while since a mobile computer without one of these energy efficient little powerhouses crossed our desk. Gigabyte has also jumped on the bandwagon, and the G-Max N203 sports one of Intel's latest 'Dothan' 90nm process 2MB level 2 cache M processors. The particular model is the Pentium M 725 which run at 1.6GHz.
The G-Max N203 uses the Intel 855GME chipset including the ICH4-M Southbridge chip. This enables support for DDR 333 memory (through the processor itself does not take advantage of this).
Intel's Extreme Graphics 2 chipset is built in, providing high image quality for desktop graphics and DVDs and just passable 3D performance for older games. It's not up to the challenge of modern games like Doom3 and Half-Life 2 though, so be aware that the N203 is not a gaming machine. The graphics card shares up to 64MB of the main memory space and provides both TV-out and VGA out capabilities.
As for memory, our review model featured 256MB of 333Mhz DDR, with support for up to 1GB. The GMAX N203 comes with a 40GB 4200 RPM drive, though a 60GB drive is also an option for the 'Jazz Black' model. The optical drive, a Matsushita UJDA750, combines DVD reading with CD-R and RW burning capabilities. Its specifications are 24X read/write, 10X CDRW write and 8X DVD read.
The 12.6" TFT LCD uses a native resolution of 1024x768 (XGA) which is about right for an LCD of this size. The screen has a conventional aspect ratio, not a widescreen one.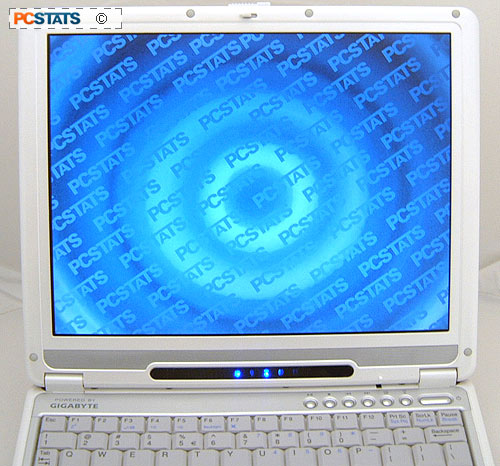 The battery is an 11.1Vdc, 4400mAH Lithium Ion six cell model, weighing around a pound. Gigabyte claims 4 hours of battery life on a full charge.
Networking features include the expected Intel 802.11b+g integrated wireless adaptor (common to most Centrino notebooks), as well as a standard 10/100 Ethernet port and a 56K modem jack. Other I/O ports include 3 USB 2.0 ports, a couple of IEEE 1394 ports, headphone and mic jacks and Dual PCMCIA slots. A padded sleeve case is also included.