Abstract: Features and portability are this 1.6GHz Centrino-based laptop's primary strengths, but it can also hold its own in the office computing.


75% Rating:

Home > Reviews > Notebooks > Gigabyte GMAX N203
Unreal Tournament 2003, conclusions
Unreal Tournament 2003

Source: Epic
Unreal Tournament 2003 is the sequel to 1999's multiple 'Game of the Year' award winner. It uses the very latest Unreal Engine technology - where graphics, sound and game play are taken beyond the bleeding edge. Unreal Tournament 2003 employs the use of Vertex as well as Pixel Shaders and it's recommended that you use a DirectX 8 videocard to get the most out of the game.
UT2003
Flyby:
640x480
FPS
Ranking
Gigabyte G-MAX N512
261.63
Sony VAIO VGN-T140P
30.32
Gigabyte G-MAX N203
29.69
1024x768
FPS
Ranking
Gigabyte G-MAX N512
158.09
Sony VAIO VGN-T140P
15.16
Gigabyte G-MAX N203
19.31
Botmatch
640x480
FPS
Ranking
Gigabyte G-MAX N512
81.18
Sony VAIO VGN-T140P
17.61
Gigabyte G-MAX N203
23.26
1024x768
FPS
Ranking
Gigabyte G-MAX N512
80.09
Sony VAIO VGN-T140P
9.55
Gigabyte G-MAX N203
12.46
UT2003 was just barely playable at 640x480 on the Gigabyte G-Max N203 notebook. Did we mention that this machine is not intended for heavy gaming?
Final thoughts on this red and white notebook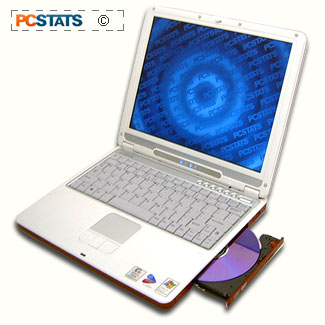 The Gigabyte G-Max N203 notebook packs a bunch of ports and features into a small package, and that's a good thing. The only interface that could possibly have been added would have been a card reader. Overall, the G-Max N203 is a jack of all trades. It definitely has the processing power to handle serious office applications with its 1.6GHz Pentium M processor (though a memory upgrade from the default 256MB would be recommended) and it works well as an entertainment PC with its DVD drive and adequate battery life. Since the N203 is new to the North American market, check with your local dealers for pricing.
The only application for which it is not well suited is the role of a 3D gaming PC, since the integrated Intel Extreme 2 graphics are not up to anything but the least demanding gaming tasks. The 'Jazz Black' model seems slightly more appealing, mainly because of the extra 256MB of memory, which would definitely come in handy for more demanding tasks like Adobe Photoshop.
The G-Max N203 does boast a 'love it or hate it' kind of look, at least in the case of our Ruby Red review model. It has considerable visual appeal, especially if you like Apple's iBook line of laptops, but all the flash may turn some off. The high-end Jazz Black model appears to be considerably more conservative looking.
We wished the notebook was slightly lighter, as it is on the heavy side for a 12.6" screen notebook. The variety of ports and interfaces are a good tradeoff for this fact though.
Our only major concern revolved around the measly six month warranty on the battery (according to the web site). This is not something we have seen in the past, and we hope it does not become a trend. In our view, the battery should be expected to last as long as the laptop does, barring misuse. Overall, the Gigabyte G-Max N203 would be a worthy laptop for work in the office or on the road, as well as the occasional DVD movie. It's a portable workhorse that can handle many media types with ease.
Find out about this and many other reviews by joining the Weekly PCstats.com Newsletter today! Catch all of PCstats latest hardware reviews right here.
Related Articles
Here are a few other articles that you might also enjoy...
Gigabyte G-MAX N512 Centrino Laptop Review
NEC Versa UltraLite - Extensive Review
HP Pavilion N5150 Notebook Review
FIC Aqua 3400 Revisited
Acer 512T Laptop Review