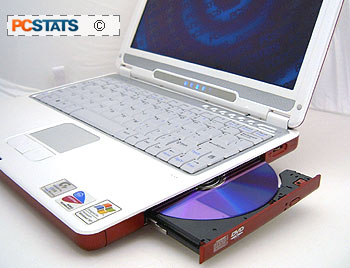 Despite its relatively meagre 240MB of available memory, the 1.6GHz Pentium M processor proved well up to the task of normal desktop operations. It felt considerably snappier running Office and related operations than the Celeron 2.4GHz system that this article was written on. The only evident slowdown was when switching between open applications. This is where more memory would come in handy.
DVD playback was good. Despite our initial misgivings about the brightness of the screen, it proved well up to the task of playing back our two test disks, Pitch Black and the Matrix.
The keyboard proved fast, if a little shallow to be truly comfortable. This is what we'd expect from a laptop keyboard, so no marks off here. The built-in trackpad was nice and sensitive, but the buttons were a little too stiff for our liking.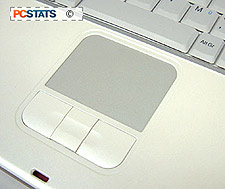 As you would expect from a notebook running the fast Intel Pentium M processor, the Gigabyte G-Max N203 got quite warm during use. It never heated up to the point where you would be unable to use it on your lap though, so this is not a major concern.
The onboard speakers were about as good as you could hope for from any midrange notebook, meaning they were awful.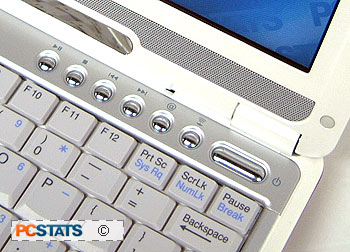 Sound through headphones was just fine though, with decent bass and clear sound reproduction. The G-Max N203 uses standard Realtek AC'97 audio, identical to the integrated sound solutions on the majority of motherboards.
The integrated Intel wireless 802.11b+g adaptor showed good signal range and throughput. The wired Ethernet and modem worked just as expected.
The Gigabyte G-Max N203's integrated Matsushita UJDA750 DVD/CDRW combo drive functioned well in our DVD tests and software installation tests. The tray loading drive had a solid feel which we appreciated. Often, notebook optical drives feel fragile enough to snap off in your hand, but not this one.
Benchmarks
We compared the Gigabyte G-Max N203 against a couple of other laptops we've reviewed recently, the Gigabyte G-Max N512 and the diminutive Sony VGN-T140P. Both are decent examples of the extremes of notebook design; the G-Max N512 functions adequately as a desktop replacement and gaming machine, while the Sony laptop is an excellent example of a modern ultra-portable notebook. Let's see how the mid-range G-Max N203 stacks up in the office and gaming benchmarks.

PCStats Test System Specs:
| | | | |
| --- | --- | --- | --- |
| model: | gigabyte g-max n203 | gigabyte g-max n512 | sony vgn-t140p |
| processor: | intel pentiumm | intel pentium m | intel pentium m ultra-low voltage |
| clock speed: | 1.6ghz | 1.7ghz | 1.1ghz |
| video processor: | intel extreme 2 16mb | ati radeon mobility 9700 64mb | intel extreme 2 16mb |
| memory: | 256 mb ddr 333 (16mb shared) | 512mb ddr | 512mb ddr 333 (16mb shared) |
| hard drive: | 40gb 4200rpm | 60gb 4200rpm | 40gb 4200rpm |