Now that your monitor is correctly set up, let's change the desktop refresh rate to something more comfortable than 60Hz. Right click on an open area of the KDE desktop and choose 'configure desktop.' Now select 'size and orientation' from the list on the left.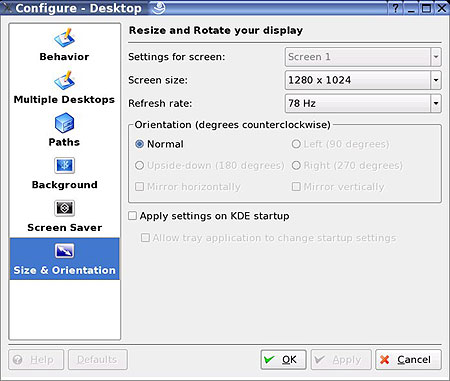 Change the 'refresh rate' drop down box to something more comfortable for your eyes. You can also change the desktop resolution here as well, if you'd like. Hit 'ok' when you're finished.
Connecting to the Internet and your home network
The next essential step is to get connected. If you successfully completed the network setup and DSL configuration steps (if necessary) during installation, this part is pretty much academic. If you are using a cable connection or a home router, you should already be connected to the Internet. Hit the Konqueror icon and enter a URL to find out for sure.
If you are using DSL and have already created a connection, use the Kinternet application in the taskbar (represented by a little plug icon) to dial your connection. Just click on the plug to connect. Right click on the icon for access to configuration settings.
If you need to reconfigure your network settings or create a new DSL connection, you can load the same YaST tool you used during the installation process by clicking on the 'start' menu button and going to 'system\YaST'.