Now it's time to create a user, just as you would when installing Windows XP. Unlike XP though, this user is not an administrator and cannot configure most system settings. Instead it is a basic user account which allows you to accomplish day-to-day tasks in Linux without the risk of changing anything vital to the OS.
Any tasks you attempt to perform which require administrative ('root') access will pop up a window requesting the root password you created earlier in the install process (and which you then wrote down… right?). By entering this password you can perform that task, and only that task, as the 'root' user instead of your regular username.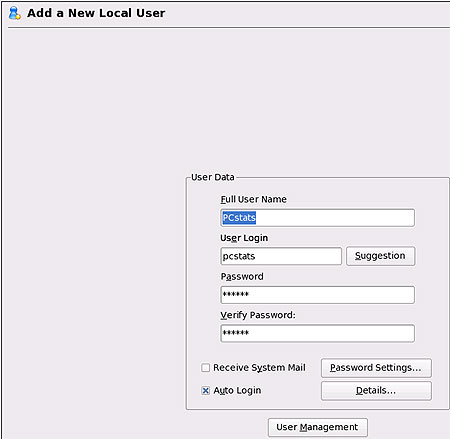 Create a full name, user login and password for this user account. The userlogin is the name that is used to identify this account when logging in, while the full user name will be used to name your home directory once SUSE Linux is installed. Try to use a different password than the one you selected for the ROOT user account.
The autologin button is checked by default. This indicates that the system will log the user you are creating now in automatically, without the need to enter a password. A password will still be required for any tasks that require administrative 'root' access though, as mentioned above.
If you want to choose which account to login as, or want the security of a login prompt, uncheck this option. By clicking the 'user management' button, you can add additional user accounts or change various settings on your first one. Now click 'next' when presented with the 'hardware configuration' screen, then 'finish' to complete the installation process. You're about to boot into SUSE Linux Personal 9.1 for the first time!
Note the loading screen for KDE. KDE is the default desktop environment for SUSE 9.1, just as it was for Knoppix and most other larger Linux distributions. On future reboots, you will be presented with a menu screen allowing you to choose between the various operating systems installed on your computer.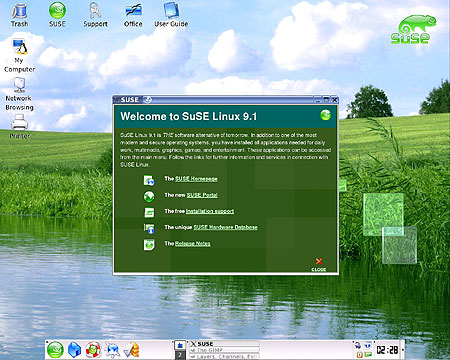 Isn't it pretty? Now let's get familiar with your new operating system.