Functionally, installing a new optical drive is identical to installing a hard drive, minus the need to partition and format. There are a few other considerations however.
When installing a DVD drive, take time to ensure that your system has the horsepower necessary to view a DVD movie successfully before you spend the cash on the drive. A good general guideline is a minimum processor speed of ~400MHz with a video card capable of DVD decoding.
Almost all modern video cards have this feature built into them, but as a rule, any ATI card built later than 1998 will, as will any NVIDIA Geforce video card. With integrated video (video card built into your mainboard) it's a bit of a crapshoot. If you have a decent processor and a recent video card, you are all set.
For CD-RW drives, computer speed is also important. Generally the faster drives will require faster computers to run reliably. All CD-RW retail box drives should have minimum specs included. Ask your dealer about these issues if you are unsure.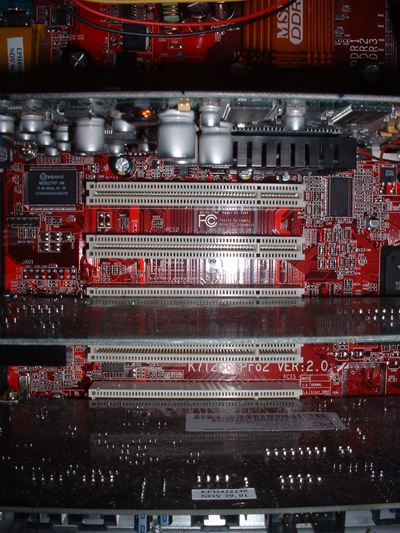 Adding PCI expansion cards.
A simple procedure provided you have a free PCI slot. Simply insert the expansion card firmly into the slot when the computer is off, it should sit evenly once inserted, with only a fraction of the gold traces on the bottom of the card visible.
Screw the card into the expansion bracket. Now boot into Windows. Your new card will be detected and you will be prompted to install drivers.
Adding a new video-card.
There are only a few reasons for doing this. First and foremost is gaming. If having the hardware required to play the latest and greatest games is your goal, you will need to upgrade your video card, but probably more than that also. While an explanation of the function and complexities of modern 3D-accelerated video cards is beyond the scope of this article, suffice to say that both a fast video card and a fast processor are both needed in order to play newer 3D computer games.
If you are looking to get into this area, the best thing to do is ask an expert, and the experts we have available in the PCstats Forums will be more than happy to guide you towards game playing nirvana.
Otherwise, you might want a new video card to partner up with a new monitor. One limitation of older video cards is that they tend to have a minimal amount of onboard memory installed, which limits the screen resolutions and amount of colours that they can display.
For example, in order to display 2D images in 32-bit colour on a monitor with a resolution of 1280x1024 or higher, you are going to need at least an 8MB video card. Using two or more monitors at once is also possible, and many modern video cards come equipped with two VGA connectors to facilitate this.
The AGP port is generally the brown slot at the top of the row of peripheral slots that runs down the board. Ensure that the catch (AGP Retention Mechanism) at the far end of the port is open, if it is present. Insert the card firmly into the AGP slot. It should settle evenly, with just a tiny fraction of the gold traces at the bottom of the card visible. Screw the card into the expansion bracket.