Lastly, while we're here, take a look at your power-supply. First check the connector that goes between your mainboard and the power supply. If your computer is remotely current, it should look like this 20-pin ATX connector pictured below.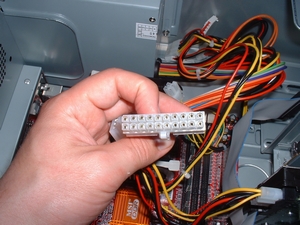 If you have the above-pictured connector, you have an ATX power supply and case, which is good, since it is the current standard. Now take a look at the top of the power supply to check the rating. In general, if it's anything less than 300 watts, it's a good idea to consider upgrading that too.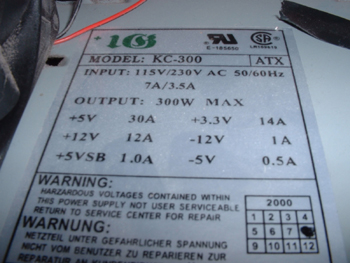 Ok close it back up and let's look at your options.

Figuring out your options

Assuming you have identified the make and model of your mainboard, do you know the chipset? If you do, the best bet is to get thee to the manufacturer's website and look up the specs for the board. Most manufacturers will also post occasional BIOS updates for the boards which may, in some cases include support for newer processors.

If your computer is too slow, and you are looking to upgrade more than just the amount of memory, you either need to have a fairly new computer to start with, or you are going to need a brand new mainboard as well. Intel and AMD (the two major processor manufacturers) have been changing standards regularly as they have released new lines of processors, meaning that older mainboards are not in the slightest bit compatible with newer processors. If the board you have currently supports socket 478 (Pentium 4), socket-A (Athlon XP), socket 754 (Athlon64) or even socket 370 (Pentium III), you may have some CPU upgrade options. If it is anything else, forget keeping your existing board. You will have to buy a new mainboard also.

Once you have read up on your mainboard's specs, you should have a better idea of the options. Following is a list of the most upgradeable components of your PC, and the options and installation instructions for each.