While upgrading the processor can and will give dramatic performance gains, it is a difficult thing to do by itself. Not difficult in terms of actually doing the upgrade, but difficult in terms of not being forced to upgrade the mainboard along with the CPU.
The reason for this is that the constant changes being made to processor product lines by the major manufacturing companies (Intel and AMD) force concurrent changes by mainboard manufacturers for compatibility.
For example, while AMD has admirably stuck to a single architecture (socket-A) for connecting its Athlon processors from 600Mhz Thunderbirds all the way to the current 2.2Ghz Athlon XP 3200+. There have been several changes along the way which prevent older socket A mainboards from using the current chips, including three changes in memory speed and one change in processor architecture.
The Intel picture is similar.
To sum up, you will have to upgrade rather frequently in order to use the same mainboard for two or more processors. Consult your mainboard manufacturer's website for compatibility information. If you have a big box PC (Dell, Compaq, etc.) you will be most likely out of luck at this point, as the major manufacturers generally use unmarked boards. Trial and error is possible but risky. See what you can find out about the mainboard, but be prepared to replace it. To install a new CPU, see the guidelines below.
Upgrading the Mainboard
If you are looking for a significant upgrade in the speed of your computer, chances are this is the avenue you will end up following. A brand new motherboard and processor, and quite possibly new memory as well. Practically a new computer isn't it? Well, yes it is... Which brings us to a couple of points.
Number one, it is practically a new computer at this point, and you should decide whether it would be worth having two computers instead of one for a few hundred dollars extra, since you could assemble a completely new one for that.
Number two, if you decide the upgrade alone is worth the money, be aware that you are also looking at re-installing whatever operating system you happen to be using. Windows in general has never coped very well with having the mainboard of the system changed underneath it, and this has only gotten worse with newer versions. Though your experience may vary, plan on having to re-install your operating system along with the upgrade. If this is okay with you, let's continue.
Assuming you have a new board with a compatible processor, memory and fan, first remove the old mainboard. Detach all cables, remove all PCI and AGP expansion cards, then unscrew and remove it. Verify that the risers used to screw the old board into the case are going to fit your new board. If not, fix 'em.
To install the new CPU, place your motherboard flat on top of the anti-static bag it came in. Ensure that the lever on the cpu-socket is upright (open). Holding the CPU gently on the sides with thumb and fingers, lower it into the socket, ensuring that the arrow on the CPU matches the arrow indented into the socket.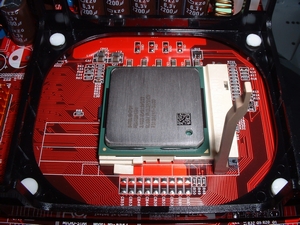 Ensure that the CPU is sitting flush with the socket on all sides. No pins should be visible. Very little effort should be required to insert the CPU. If you cannot get it to sit evenly DO NOT force it, remove it completely and try again. Once you are sure the CPU is correctly seated, lower the lever until it locks.

This will require a small amount of force. Now to install the CPU heat sink and fan (note: this article assumes either an AMD or Intel processor with a stock retail fan.)