Samsung SyncMaster 243T 24-inch LCD Display Review
---
LCD monitors are becoming more and more prevalent on desktops everywhere as prices drop and users discover the joys of these crisp, refresh-rate free displays. Unfortunately for us, this also means that the days of LCD reviews being an interesting novelty have drawn to a close. So what can we do for an encore? Simple... look towards bigger and BIGGER LCDs!
Samsung is arguably the leader in LCD display technology, having established a number of firsts over the last few years in LCD size, display angle, etc. The company manufactures the actual LCD screens, which means it has a leg on competitors and produces a large range of LCD monitors, including several intended for professional use. In this review, PCSTATS will be testing out one of its latest TFT-LCD models, the 24-inch Samsung SyncMaster 243T.
This lovely piece of LCD technology sports some impressive specs including a 1920x1200 native resolution, a 500:1 contrast ratio, 170 degree horizontal/vertical viewing angles, 0.270mm pixel pitch, a pivoting display and dual digital/analog modes. It is ideally intended for commercial applications where its wide viewing angles and crisp graphics would be a definite asset. At a cost of approximately $2700 CDN, this is not a home desktop monitor by any stretch of the imagination.

Syncmaster 243T 24" LCD Display

Includes:

Manual, digital video cable, analog video cable, power cable, software.


SPECIFICATIONS:
Screen size: 24"
Brightness: 300 cd/m2
Contrast Ratio: 500:1
Viewing Angle: 170°/170°
Interface: Analog/DVI
Resolution: 1920x1200
Pixel Pitch: 0.270mm
Response Time: 25ms
Power Draw: 90W
Dimensions: 23x20x10"
The Samsung SyncMaster 243T comes with a three year warranty which covers all aspects of the product including the backlights. Incidently, one of the quickest ways to tell the quality of an LCD is to look at the glass; if it has a greenish-hue, it's usually of lower quality. If the screen is jet-black you're going in the right direction, and if the screen is jet-black when it's turned on displaying a 100% black image, you've really got something special. In the case of the Syncmaster 243T, it maintains a perfectly black test screen when all powered up, signalling a great contrast ratio, and perhaps the makings of an excellent LCD display...
The 24" SyncMaster 243T is available in silver or black bezels. Our test model was black and sported an attractive and businesslike design. The bezel is less than an inch and a half thick on all sides, so it is barely noticeable as it frames the 24" slab of LCD glass. The Samsung logo and model number are stencilled in white along either end of the lower bezel, and a set of six discrete buttons controls the basic display settings.
This monitor is not going to win any esthetic awards, but it does look classy, and the design is not distracting. The minimalism of the bezel and controls serve to draw your eyes to the display which is the star of the show anyway.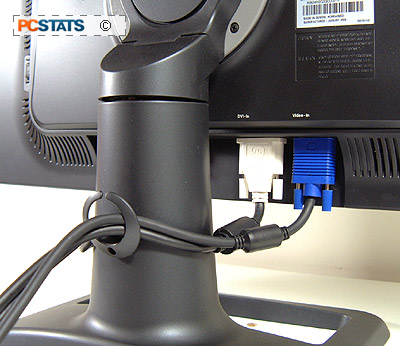 A plain black, plastic-encapsulated cast metal base adds some substantial weight behind the display and integrates tilt and swivel functionality. The base has rubber grips on the bottom and extends up into a gooseneck support that attaches to the display itself. This support can be swivelled about 30 degrees to the left or right and about 30 degrees upwards (or any combination of these angles).The support is not vertically adjustable however, the height set should be sufficient for most users.