nVIDIA was not able to go with a single chip solution for the Intel platform, and so the GA-8N-SLI Royal motherboard is equipped with both a Crush 19 nForce4-SLI Intel Edition Northbridge and an MCP04 Ultra Southbridge.
Both chips use FCBGA packaging and make direct contact with the included heatsinks. You'd better have good airflow in your case if you plan to use an nForce powered Pentium 4 motherboard... both chipsets produce quite a bit of heat like their AMD siblings.
The Gigabyte GA-8N-SLI Royal requires a little extra power than normal boards do, which is why there is also a four pin molex connector just above the first PCI Express x1 slot.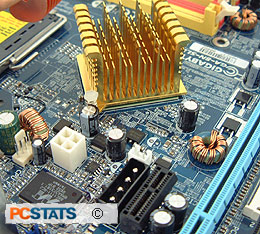 AMD nForce4-SLI motherboards typically require extra power so we're not surprised to see this on Intel versions as well. The capacitors on the motherboard are very high quality, with the majority of them manufactured by Nichicon and Sanyo, so you shouldn't have to worry about bulged caps in a couple of years.
I'm happy to see that Gigabyte equips the GA-8N-SLI Royal with Serial ATA II compatible connectors on the motherboard. These are a lot more secure than the older Serial ATA generation one slots.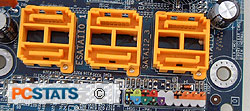 As a user with four Serial ATA HDDs, I know the cables can come out quite easily. Hopefully Serial ATA II drives will have similar locking mechanisms on them when they're finally released.
We were a bit surprised to find a Bluetooth USB dongle tucked in with the motherboard rather than a PCI 802.11g wireless NIC like the company does with its other high end boards. While Bluetooth is useful for connecting with other small peripherals like cell phones or printers, a 802.11g wireless network card is much more handy overall. We kind of wish they'd included both.
Since the Gigabyte GA-8N-SLI Royal is still in the development phases, it's shouldn't come as much of a surprise there are a few issues with the board design. The optional Northbridge fan that Gigabyte includes with the board interfered with the processor heatsink (a Thermaltake Jungle 512) and we were unable to install it.
While the Jungle 512 is a large heatsink, it's not significantly bigger than the standard 90mm Intel reference heatsinks, so anyone using third-party coolers in their systems should be aware that this could be an issue. The Northbridge fan is not required to operate this motherboard however.