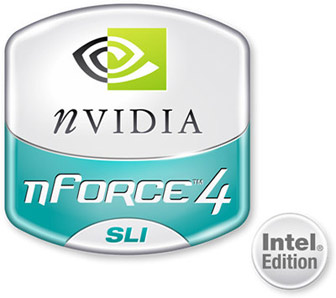 The 'Crush 19' nForce4-SLI Intel Edition chipset differs substantially from the Nforce 4 chipset for AMD64 in a couple respects. The most obvious difference is that the nForce 4 SLI Intel Edition is not a single chip solution. Instead of having all chipset elements integrated into a single IC as the nForce 3 and 4 chipsets for AMD did, the Intel Edition has a conventional split Northbridge/Southbridge setup.
The lack of an integrated memory controller and Hypertransport links on the current Intel processors necessitated this change. The 'Crush19' Northbridge handles the PCI Express bus and memory controller duties, while an nVidia MCP04 Ultra Southbridge chip covers other I/O tasks like the PCI bus, SATA and IDE drives and USB.
As you might have expected, the 'Crush 19' nForce4-SLI Intel Edition motherboard is Socket 775 only, of course, and supports Pentium 4 'D' processors as well as Pentium 4 EE (Extreme Edition) chips. It should also be compatible with Intel's upcoming dual-core processors on release. Other technologies associated with the these Pentium 4 CPUs are also supported, including EM64T, the XD bit and EIST (Enhanced Intel Speed Step) technology.
The nForce4-SLI Intel Edition introduces a first for Intel-based systems: The use of the Hypertransport bus. While a conventional FSB structure connects the Pentium 4 processor to the chipset (since Pentium 4 chips do not natively support Hypertransport like Athlon 64 processors do), an 800MB/s Hypertransport connection is used to bridge the gap between the Northbridge and Southbridge. This hybrid structure is one of the things that makes the nForce 4 SLI Intel Edition so interesting.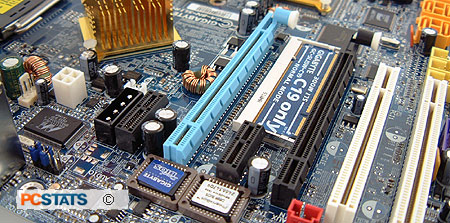 The most interesting thing though (for Intel enthusiasts anyhow), is the introduction of nVidia's SLI to the Intel platform. As far as we know, this functions identically on both Intel and AMD versions of the system, with a physical switch changing between SLI and non-SLI mode. 16 lanes of PCI Express are divided in two to service both PCIe x16 graphics ports for SLI or sent directly to one port for non-SLI. Up to three PCIe x1 slots are also supported on this particular motherboard. nVidia claims that Intel SLI can provide a 70% performance advantage over single video card configurations. We'll see how they actually fare in our benchmarks later in the article.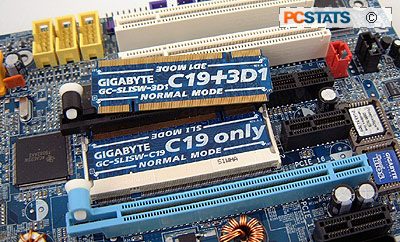 Becuase of Gigabyte's unique GV-3D1 dual GPU videocard, a separate switch has been included with the GA 8N-SLI Royal specifically for use with that videocard.
Another addition different from that of the AMD nForce 4 chipset is that a memory controller had to be added to the nForce 4 SLI Intel Edition chipset. Intel processors do not (yet) have integrated memory controllers built into them like their 64-bit AMD competitors do. This, more than any other factor necessitated the change to a split Northbridge/Southbridge form factor. The controller nVidia has added supports dual-channel DDR2-400 to DDR2-667 memory at speeds of 1066MHz and 800MHz.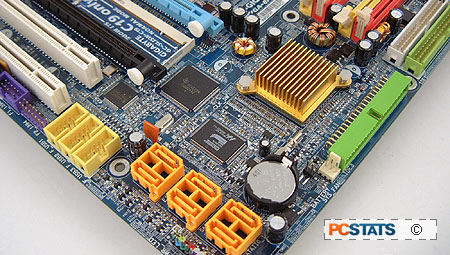 The MCP04 Southbridge is identical in functionality to the I/O capabilities of the AMD Nforce 4 chipset. It supports four serial ATA 300 devices, two ATA/133 channels, 10 USB 2.0 devices, integrated Gigabit Ethernet, 7.1 channel audio and the PCI bus. Other chipset features like the ActiveArmour firewall will also remain the same in both versions. Next up, overclocking on the nForce 4 SLI Intel Edition chipset!