Gigabyte GA-8N-SLI Royal NF4-SLI Intel Edition Motherboard Review
---
If anything, history has taught us that Intel processors work best when teamed up with Intel chipsets. A few manufacturers have tried to break this trend, with VIA being the only relatively successful one, but in general Intel has always dominated its own chipset market. There are good reasons for this of course; Intel chipsets tend to be fast and stable from the start; VIA, SiS and ALi have often suffered from 'lower performance syndrome,' and occassionally even a battalion or two of Intel lawyers.
There's a new player in town though, and nVIDIA's core logic chipset for the Intel Pentium 4 platform is the 'Crush 19' nVIDIA nForce4-SLI Intel Edition. Once only an AMD chipset provider, nVIDIA is now firmly supplying its popular nForce4 chipsets to motherboard makers for both Pentium 4 and Athlon64 processors.
With respect to AMD, when nVIDIA entered that chipset market it was a little fish ignored by the established barracudas. Now it is arguably a market leader, which begs the question of whether nVIDIA will have another hit, or face a 'sophmore slump.' Only time will tell, but one thing is for sure: nVIDIA's nForce4-SLI Intel Edition chipset has forever changed the motherboard landscape.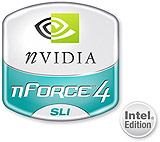 The new icon for the nVIDIA nForce4-SLI Intel Edition chipset.
To no-one's surprise, as a Tier-one manufacturer, Gigabyte is one of the first companies to release a 'Crush 19' nForce4-SLI Intel Edition motherboard.
In this exclusive review, PCSTATS is benchmarking Gigabyte's initial offering, the regally named GA-8N-SLI Royal motherboard. Like AMD-based NF4-SLi boards, this motherboard sports dual PCI Express x16 slots which can be used singly or together with SLi-compatible nVidia graphics cards. SLI for the Intel Pentium4 processor has arrived!
The Gigabyte GA-8N-SLI Royal motherboard has all the makings of a great motherboard. Integrated peripherals include an additional Promise Serial ATA II/IDE/RAID controller, IEEE 1394b Firewire, two Gigabit NICs, 7.1-channel audio and of course Gigabyte's trademark dual BIOSes. Also included for good measure is a Bluetooth wireless USB device. Six SATA II drive connections are available, and the board can also support six IDE devices. A pair of PCIe x1 slots provide for future expansion while two more standard 32-bit PCI slots cover current legacy needs.
Additional MOSFETS for power conditioning are provided by the Gigabyte GC-U-Plus DPS power bracket that plugs into a slot next to the processor. This power conditioner uses a heat-pipe solution with a small copper heat sink to vent waste heat.

Gigabyte GA-8N-SLI Royal Motherboard



Includes:

Users Manual, Driver CD, Hardware Installation Guide, Eight Serial ATA cables, One Molex Y Serial ATA Power Cables, Ultra/133 IDE Cables, Floppy Drive Cable, Serial ATA RAID manual, I/O Bracket, SLI Connector, DPS Power Bracket, Bluetooth USB Dongle
The Gigabyte GA-8N-SLI Royal is quite a busy motherboard in terms of component layout, but overall things are logically placed and unobstructive. I especially appreciate the IDE/floppy and main ATX power connectors being located just to the right of the DIMM slots. Round back by I/O ports, we find the usual assortment of items, including an SPDIF optical and RCA output.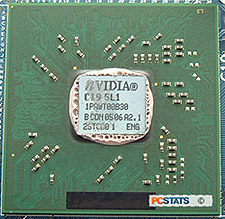 The nVIDIA nForce4-SLI Intel Edition chipset. This particular chipset is an engineering unit.
The amount of peripherals included with the GA-8N-SLI Royal motherboard is impressive. Gigabyte packs so much in with their motherboards lately that they have to use a second box to hold some of the items. Included are six Serial ATA cables as well as brackets for both IEEE 1394b and USB 2.0 headers.
While installing a Socket 775 processor is not difficult overall, it's more tricky than before and Gigabyte does their part to make sure end users don't damage their hardware. Included are two documents, one from Intel and one from Gigabyte on how to install the processor properly.
Gigabyte integrates a Promise PDC20779 Serial ATA II/IDE RAID controller onto the GA-8N-SLI Royal. If you want to run RAID, the PDC20779 supports modes 0 and 1. Unfortunately the PDC20779 does not have SATAII port multiplier capabilities, but its six SATA headers should be more than enough.
Gigabyte includes two Gigabit NICs on the GA-8N-SLI Royal motherboard and I'm happy to report that neither of them run through the PCI bus. The Marvell 88E1111-RCJ has a direct connection to the MCP04 Ultra Southbridge while the Marvell 88E8053-NNC is a PCI Express x1 device. It's nice to see manufacturers moving away from the PCI bus, since with only a total of 133MB/s worth of bandwidth multiple devices can bottleneck it very quickly.