Considering how well the AMD version of the nForce4 chipset overclocks, I was hoping for some magic with the GA-8N-SLI Royal and its nForce 4 SLI Intel Edition chipset.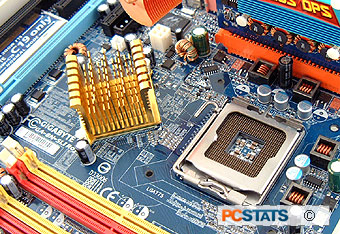 The way one has to overclock the GA-8N-SLI Royal is a bit different than with a regular motherboard. You still increase the FSB 1 MHz at a time but with this motherboard you increase it after the x4 multiplier has been applied (since the Pentium 4 uses a quad pumped data bus). For instance, instead of going up from 200 MHz FSB, we instead start at 800 MHz (200 x 4).
Another neat feature is that the memory will run at the speed you set it to, no matter what the FSB is. While some may not like this, I personally think it's a great feature! This allows users to focus on motherboard overclocking and not worry about having the board top out too quickly. When you're ready to find out how high the memory can run, you can overclock that part to your hearts content.
Starting at 800 MHz we decided to jump up in 10 MHz intervals, which would only be 2 1/2 MHz on a regular Intel board. We were easily able to pass the 900 MHz (225 MHz) mark without any problems. Continuing up, we broke 920 MHz, 940 and 960 MHz without any problems. At 970 MHz the system finally started to show some signs of instability but it was the processor starting to top out, not the motherboard. Increasing the CPU voltage to 1.45V solved everything and we continued on with the overclocking.
To our pleasant surprise the beta Gigabyte GA-8N-SLI Royal board was able to hit a maximum of 1040 MHz (255 MHz). I think the part that was limiting the system was the processor though, not the motherboard! With the Pentium 4 540 air cooled and clocked at 4.08 GHz already, it was topped out and I'm 100% positive the motherboard had more left in it. The fact that we didn't even start increasing the chipset or HyperTransport voltages yet should tell the enthusiast that there's plenty of speed left to be tapped in this motherboard! Excellent work nVIDIA/Gigabyte!
First shots of the nF4 Intel BIOS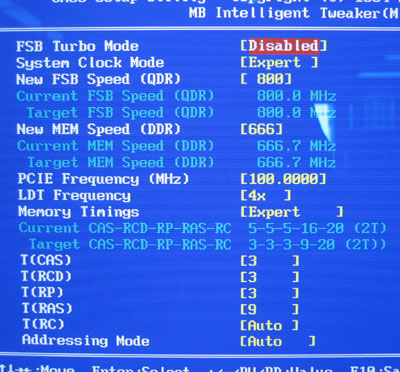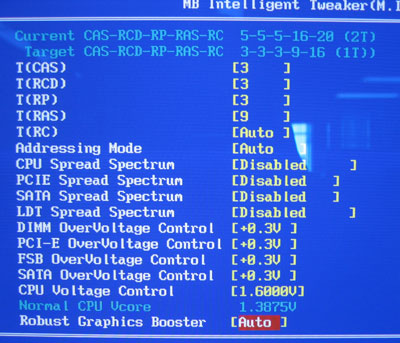 Gigabyte places all the goodies in the MB Intelligent Tweaker Section of the BIOS. Here you can change the motherboard clock speed between 400-1300 MHz (100-325 MHz) in 1 MHz increments. Memory frequency can also be changed between 400-900 MHz, again in 1 MHz increments. A nice feature that Gigabyte integrated into the BIOS is the ability to type in the speed you want. Could you imagine scrolling between 400-1300 MHz? That would take a long time...
You can also adjust the PCI Express speed, but that's best left at the default. HyperTransport runs at 800 MHz by default and you can even change it to 1 GHz, although our sample didn't like that setting. Hypertransport should have a lesser effect on overall system performance in this Intel version of the nForce 4 chipset though, since it is only linking the Northbridge and Southbridge chips, not connecting the CPU to the rest of the system.
Maximum memory voltage goes as high as 0.3V, PCI Express voltage 0.3V, Serial ATA voltage 0.3V and CPU voltage 0.2125V. I'm not sure what FSB OverVoltage Control does, but that can also be increased 0.3V.

PCStats Test System Specs:
processor:

intel pentium 4 3.2e
amd athlon64 4000+

clock speed:

16 x 200 mhz = 3.2 ghz
12 x 200 mhz = 2.4 ghz

motherboards:

albatron px925xe pro-r (925xe)*
gigabyte ga-8anxp-d (925x)*
msi 915p neo2 platinum (915p)*
dfi lanparty 875p-t (i875p)**
asrock 775v88 (pt880)**
gigabyte ga-8n-sli royal (nf4-sli intel)*
dfi lanparty nf4 sli-dr (nf4-sli amd)*

videocard:

msi rx800xt-vtd256*
asus ax800xt/tvd **
msi nx6600gt-td128e***

memory:

2x 512mb crucial ballistix ddr2-533
2x 512mb corsair twinx1024-3200xl

hard drive:

40gb western digital special ed
74gb western digital raptor sata hdd

cdrom:
aopen 52x combo
powersupply:
seasonic super tornado 400w
software setup

windowsxp build 2600
intel inf 6.10.1012
nforce 6.53
forceware 71.84
catalyst 5.3

workstation benchmarks

sysmark 2004
business winstone 2004
content creation 2004
winbench 99
sisoft sandra 2004
super pi
pcmark04
3dmark2001se
3dmark05
aquamark3
comanche 4
x2: the threat
ut2003
ut2004
doom 3
* - msi rx800xt videocard used ** - asus x800xt pe videocard used *** - msi geforce 6600gt used in both single and sli forms.
for sli comparison purposes, we're going to show how an AMD Athlon64 nForce4-SLI system stacks up against the nForce 4 SLI Intel Edition chipset in the gaming benchmarks only. There isn't much point in running an SLI comparison for office oriented benchmarks after all, now is there? The numbers are not directly comparable since the 2.4GHz AMD Athlon64 4000+ we are currently using for testing is a high-end chip, while the 3.2GHz Intel Pentium 4 540 is a little more of a mainstream processor, inspite of its 800MHz lead.