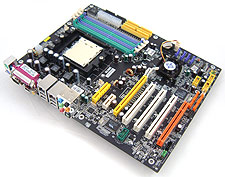 MSI has long been a leader in the 'eye candy' department and the MSI K8N Neo4 Platinum is easily one of the better looking motherboards on the market right now. You won't be ashamed to have a case window with the K8N Neo4 Platinum as your backbone! Of course there's more here than meets the eye, and the MSI K8N Neo4 Platinum is in general a very well rounded motherboard.
The Nvidia nForce4 Ultra chipset is already very feature rich, and the board builds on that foundation by offering up two Gigabit network cards, IEEE 1394 Firewire, 7.1 channel audio and an additional Serial ATA/RAID controller (4x SATA, 4X SATAII ports). If that's not enough, the MSI K8N Neo4 Platinum also has plenty of PCI and PCI Express expansion room.
The motherboard itself is nearly perfect in component layout. If I had to find a fault here, I would have preferred that MSI included the new locking-type Serial ATA II-style connectors. The current ones are fine ,but first-generation Serial ATA cables have a tendency to pull out easily.
Overall, I think it is safe to say that the performance of the MSI K8N Neo4 Platinum motherboard was good. Its memory bandwidth scores seemed a bit on the low side in SiSoft Sandra, and the X2: The Threat benchmark, but everything else was either on par with the other nForce4 Ultra/SLI boards we've tested recently or better.
With a retail price of of $185 CDN ($151 US), the K8N Neo4 Platinum is priced with somewhat of a premium, but then this motherboard is pretty much equipped to the max. It even has MSI's "Core Cell" chip if you'd like to let the board automatically handle Dynamic overclocking for you. I recently recommended this exact model to a friend and I think it's safe to say it would satisfy the needs of most mainstream users.
Find out about this and many other reviews by joining the Weekly PCstats.com Newsletter today! Catch all of PCstats latest hardware reviews right here.
Related Articles
Here are a few other articles that you might enjoy as well...