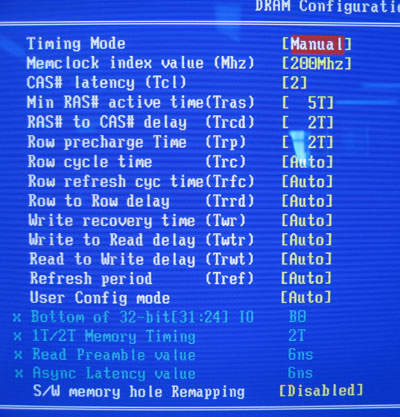 nForce4 motherboards tend to have a lot of memory tweaks available, and the K8N Neo4 Platinum is no different. Tweakers will definitely have a lot of fun in the DRAM Configuration section.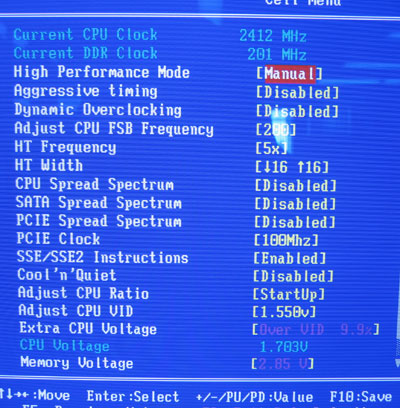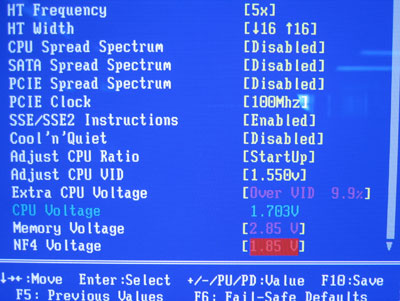 MSI offers a pretty well-developed dynamic overclocking system, but that takes the fun away from overclocking. We disabled it and did things manually. The motherboard clock speed can be adjusted from 200-400 MHz in 1 MHz increments, and you can change HTT speed as well as width. PCI Express clock speed can be adjusted but they are best left at stock speeds for stability. The maximum CPU voltage is 1.7V, memory voltage 2.85V and chipset voltage 1.85V. Not the highest we've seen, but not bad either.

PCStats Test System Specs:
processor:

amd athlon64 4000+

clock speed:

12 x 200 mhz = 2.4 ghz

motherboards:

asrock k8 combo-z/asr (ali m1689)*
soltek sl-k8tpro-939 (k8t800 pro)*
epox 9nda3+ (nf3 ultra)*
albatron k8x890 pro ii (k8t890)**
soltek sl-k890pro-939 (k8t890)**
gigabyte ga-k8nxp-9 (nf4 ultra)**
epox ep-9npa+ ultra (nf4 ultra)**
gigabyte ga-k8nxp-sli (nf4 sli)**
msi k8n neo4 platinum/sli (nf4 sli)**
dfi lanparty nf4 sli-dr (nf4 sli)**
msi k8n neo4 platinum (nf4 ultra)**

videocard:

asus x800xt/vtd*
msi rx800xt-vtd256**

memory:

2x 512mb mushkin pc3200 special ed.

hard drive:
40gb western digital special ed
74gb western digital raptor sata
cdrom:
aopen combo 52x
powersupply:
seasonic super tornado 400w
software setup

windowsxp build 2600
via 4in1 4.55v
forceware 6.10
catalyst 4.12

workstation benchmarks

sysmark 2004
business winstone 2004
content creation 2004
super pi
sisoft sandra 2004
pcmark04
3dmark2001se
3dmark05
aquamark3
comanche 4
x2: the threat
ut2003
ut2004
doom 3
we just got a couple of 74gb WD740 Raptor hard drives in which have replaced our trusty 40GB WD IDE HDDs as test drives. Please keep that in mind when viewing the office and disk benchmarks.