MSI K8N Neo4 Platinum Motherboard Review
---
It's amazing how quickly computers have advanced esthetically in the last few years. In fact, the term 'white box' has really lost its meaning. Even large OEMs like Dell, HP and Sony are spicing things up. These companies haven't started using case windows, LED fans or cold cathodes yet, but their boxes sure look a lot better than they used to.
Leading the way all along have been the major motherboard manufacturers. First came coloured PCBs, then ports, fancy IDE/Serial cables and now some are even using UV reactive components. Definitely very cool.
Today, we're looking at MSI's new K8N Neo4 Platinum motherboard. Based around the nForce4-Ultra chipset, this board can use any Socket 939 Athlon64/FX processor and can be stuffed with up to 4GB of PC3200 DDR RAM. A single PCIe x16 slot provides the graphical interface and the motherboard comes equipped with quite a few integrated peripherals like an additional Serial ATA/RAID controller, IEEE 1394, two Gigabit NICs and 7.1 channel audio. In terms of expansion, the K8N Neo4 Platinum is one of the best on the market with four traditional PCI slots, one PCI Express x1 and one PCI Express x4 slot. That's definitely more expansion room than we've seen on many other Athlon64 motherboards! Eight SATA devices are supported as well as four traditional IDE hard drives/optical drives.

MSI K8N Neo4 Platinum



Includes:

Motherboard Manual, Test Report, Quick Install Guide, one Ultra/133 IDE cable, one floppy cable, four Serial ATA cables, two Molex to Serial ATA Power Cables, Silicon Image Driver Diskette, NVRaid Driver Diskette, Driver CD, I/O Shield, USB/Diagnostics LED Bracket
Of course the pretty colours on this board are not just for looks, but for functionality as well. For instance the purple Serial ATA connectors correspond to the NF4 chipset while the orange ones attach to the Silicon Image Sil3114 controller. The three yellow nine pin connectors at the bottom right hand corner of the motherboard are the USB headers and MSI also colour coordinates these with the USB bracket that's included.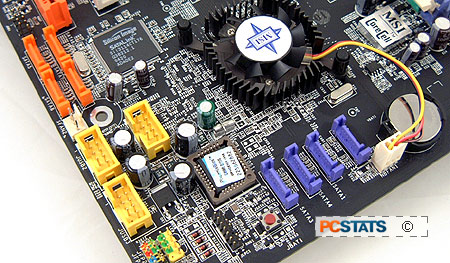 The layout of components on the K8N Neo4 Platinum is very good. Whether you are experienced or a novice computer user, you won't have a problem installing and setting up this motherboard.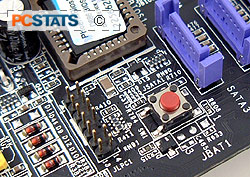 I'm always happy to see manufacturers place the IDE/Floppy and ATX connectors to the right of the DIMM slots, and it seems like more of them are doing so these days.
A good users manual is always important, and the other day when I was installing the exact same model motherboard for a friend, I needed to refer to the K8N Neo4 Platinum's one. Luckily for me the manual was and is well laid out and easy to read.
This might sound like a trivial thing to talk about, but did you notice the clear CMOS jumper has been replaced with an actual button? It's easier to use overclocking too far means the CMOS has to be reset, and something all motherboard manufacturers should have implemented a long time ago!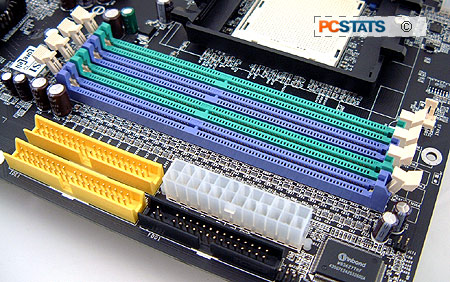 I was a bit disappointed that MSI didn't use the locking-type Serial ATA II connectors here, the new style do a lot more to keep cables from coming out. Also, MSI doesn't seem to include as many brackets as they usually do with the K8N Neo4 Platinum; there are two USB and one IEEE 1394 headers, but nothing else. Lastly, the rounded IDE/floppy cables that MSI includes with this motherboard are not very useful. They're simply regular cables folded and wrapped in plastic and are difficult to manipulate and use. Our advice? Throw them out and just use your regular IDE cables.