64 bit Software the new Battleground?
---
AMD was not the first manufacturer to release a 64 bit compatible processor but it was first to bring this technology to consumers. AMD's technology was so good that it altered Intel's outlook on consumer level 64 bit hardware, causing it to jumped on the AMD bandwagon!

In terms of software, there really is no need for 64 bit software; the future is another question but right now 32 bit software is just fine. The main reason for a move towards 64 bit hardware is memory. The majority of 32 bit hardware can only access a maximum of 4GB of memory. Some OS's can support more but that requires a specific PAE (Physical Address Extension) to allow the processor to see and use more than 4GB of system memory. It's a very inefficient method and database servers require something better which is where 64 bit hardware comes in. 64 bit hardware has the ability to access up to 18 million GB of memory, which is more than enough for today's and tomorrow's servers.

Getting back to consumers, many high end users are now starting to hit the 4GB (32 bit) limit themselves and it's only a matter of time before the average consumer starts to notice. Sure 4GB of system memory might sound like a lot right now, but we once thought 8MB of memory was a lot remember that? ;-)

nVIDIA motherboard chipsets tend to earn a reputation for running hot, which is why it isn't so surprising to find a small active aluminum heatsink resting on top of the nForce4 Ultra. It's pretty quiet, and seems to do a good job keeping temperatures in check. During testing, the heatsink was only mildly warm to the touch.

Users can of course replace this with something a little more hefty, or liquid cooled if they desire. Intentionally or not, the area surrounding the NF4-Ultra chipset on this K8N Neo4 Platinum is clear of obstructions.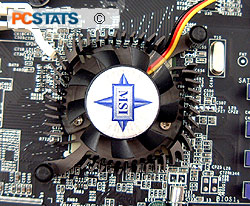 There's a saying "you can't teach an old dog new tricks", but that certainly doesn't apply with the Silicon Image Sil3114 Serial ATA controller. When it was first released a couple of years ago, it was a rather limited SATA solution; only supporting RAID modes 0 and 1. The controller has been updated, and now handles RAID 5 and 10 modes, albeit in software mode. Not bad for those who want some flexibility with their storage sub-system.
I'm happy to report that neither the Marvell 88E1111 or 88E8053 Gigabit NICs run though the PCI bus. The 88E1111 has its own direct connection to the nForce4 chipset while the 88E8053 is a PCI Express x1 based NIC.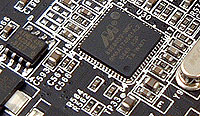 Small but fast!
Platinum Overclocking...
For PCSTATS overclocking tests on the MSI K8N Neo4 Platinum, we began by lowering the AMD Athlon 4000+ CPU clock multiplier to 6x (so the CPU does not become limiting) and lowered the memory divider to 166 MHz mode (for the same reason as the CPU).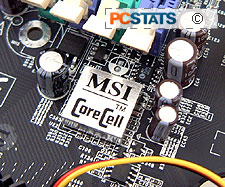 Starting at 200 MHz, I began to raise the system clock speed by 10 MHz increments; since most nForce4 motherboards are good at overclocking, I've become impatient... The K8N Neo4 Platinum ran every benchmark at 250 MHz easily. At 268 MHz the memory started to cause problems, which we fixed by lowering the memory divider to 133 MHz mode. While overall performance is lowered because of the lower memory frequency, we're testing for maximum motherboard speed here, and nothing else. We also raised the chipset voltage from 1.5V to 1.65V to further stabilize the board.
At 273 MHz we noticed some weird problem while running benchmarks, but lowering the HTT to 4x solved these anomalies. After that, things were smooth all the way up to 312 MHz. Anything higher than that caused the K8N Neo4 Platinum to BSOD. 312MHz is still pretty impressive for an nForce4-Ultra motherboard so if you're an enthusiast on the budget you might want to check this board out.