SATA drives need much less preparation than IDE devices, since only a single drive can attach to a single SATA connector on the motherboard. Hence the word "serial" instead of "parallel" in the name. Each SATA hard drive uses a small 8mm wide data cable which are distinctively different from the cables used by older IDE drives. The picture below offers a good comparison. The SATA cable is in red.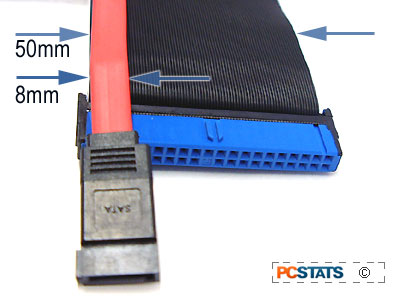 SATA data cables plug into SATA connectors on your motherboard as pictured below. The actual connectors and cables will come in several different colours (not that it matters) and can vary in general shape, but inside each and every one will be the same "L" shaped 7-pin connector (see picture below).

If you come across any devices which support Serial ATA 2 (SATA-II), keep in mind that it is backwards compatible with first generation SATA devices. The only difference in the connectors is a little locking mechanism that SATA-II cables feature, but other than that the cables and motherboard connections are interchangeable.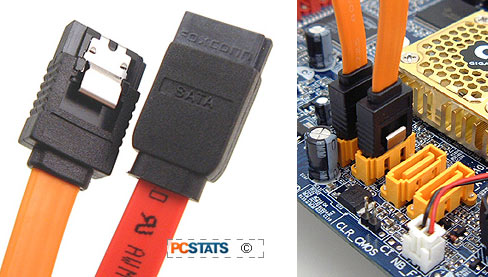 Each SATA drive needs its own SATA data cable. Your motherboard should have come with at least one, otherwise they will be readily available at your local computer store. For power, SATA drives use either a 15-pin Serial ATA power connector (in black below) or the same 4-pin Molex connector (white) used by IDE hard disks and optical drives. If the SATA hard drive you have has both power connections, use only one.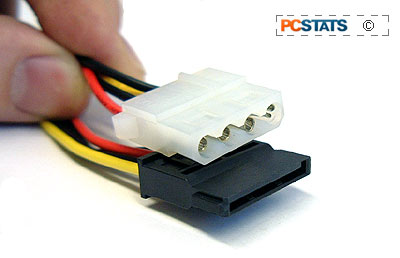 You should be able to easily determine which by looking at the back of your SATA drive. If your drive uses the 15-pin SATA power connector (black), you may need to buy an adaptor to convert the molex (white) plug, depending on how new your computer's power supply is.