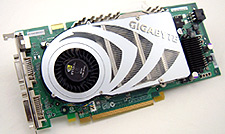 I always like to show off the latest and greatest games from the computer world to console gamers (PS2/Xbox/GameCube style graphics), and aside from cinematics consoles are underpowered compared to modern PC's. It's pretty impressive to see Doom 3 running 4xAA/16xAF at 1024x768 when comparing to the Xbox version!
With videocards improving with every generation, the day when realtime cinematic calibre graphics are the default standard is drawing closer and videocards based on the GeForce 7800 GTX are definitely moving in the right direction. Of course if you want the best, you'd better be prepared to pay for it and with a price tag of $741 CDN ($599 US) for the Gigabyte GV-NX78X256V-B, 7800GTX class videocards are certainly heavy on the wallet.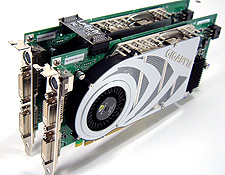 Based on the GeForce 7800 GTX, the PCI Express Gigabyte GV-NX78X256V-B SLI capable videocard is wickedly fast in pretty much everything. From normal benchmarks to AA/AF power, even a single GV-NX78X256V-B is powerful enough to keep even the most hardcore user happy. If that's not good enough for you though, get a second card and run SLI!
The Gigabyte GV-NX78X256V-B is based on the reference nvidia design, and is very quiet in operation as a result. While it's a single slot solution, the GV-NX78X256V-B videocard does generate a lot of heat - you'd best have good airflow in your case if you plan on getting a GeForce 7800 GTX videocard.
The software that's included with the Gigabyte GV-NX78X256V-B is quite impressive and will keep gamers entertained for a good weekend or two. Because the videocard supports VIVO we're happy to see that Gigabyte includes PowerDirector, one of the more user friendly video editing software on the market.
I have absolutely no complaints, this card is fast, as will be any reference based 7800GTX videocard. As a package, Gigabyte has put together a great box of accessories, so game hard and game fast! Overclocking was a little better with the Gigabyte GV-NX78X256V-B than the Albatron version, which could be chalked up to BIOS differences. With performance like we've shown you in the benchmarks, the Gigabyte GV-NX78X256V-B is a hard-core gamers delight, for certain.
Find out about this and many other reviews by joining the Weekly PCstats.com Newsletter today! Catch all of PCstats latest hardware reviews right here.
Related Articles
Here are a few other articles that you might enjoy as well...
1. ATI Radeon X800 XL Videocard Review
2. MSI NX6200TC-TD32E Geforce 6200TC Videocard Review
3. Nvidia Geforce 6600/6600GT Videocard Roundup
4. PowerColor Bravo X700 Videocard Review
5. MSI NX6600GT-VTD128SP Videocard Review