Old games of yesteryear look primitive compared to the stunning games of today and visually it's hard to go back and play those old favorites. Definitely the biggest upside to the intense rivalries that exist in the videocard market is that image quality has dramatically increased over the years. Videocards have become so powerful that cinematic cut scenes from games a few years ago can be rendered in real time now!
Today, if you want the best videocard on the market regardless of price, it's definitely going to be something based on the nVIDIA GeForce 7800 GTX core. With a price higher than many entry level PC's, cards like the Gigabyte GV-NX78X256V-B can dish out pixels like nothing before it.
With that said, PCStats will be looking at the Gigabyte GV-NX78X256V-B PCI Express videocard in all its glory. The GV-NX78X256V-B is backed up by 256MB of GDDR3 memory and supports VIVO (Video In/Video Out) as well as component output, and is fully SLI compatible. Included in the package is also a pretty good software suite which includes two full version games and some multimedia software.

Gigabyte GV-NX78X256V-B




Includes:

Users Manual, Driver CD, PowerDirector CD, Joint Operations: Typhoon Rising CD, Xpand Rally CD, VIVO/Component Break out box, dual molex to six pin power cable
If you're thinking that the Gigabyte GV-NX78X256V-B looks exactly like the Albatron GeForce 7800GTX PCSTATS tested earlier you're correct. Both cards are identical aside from a sticker here and there but that shouldn't be much of a surprise. At the beginning of each new generation, nVIDIA has taken to supplying manufacturers with reference designed videocards to ensure that the newest GPUs are actually available for sale when word comes down the wire about them. So while all first generation 7800GTX's are essentially the same, they are in stores, you can buy them, and this is certainly not a paper launch consisting of a few dozen cards being Fedex'd to the local hardware review media. Custom 7800GTX's should be arriving mid September, but don't think this GV-NX78X256V-B isn't going to be just as killer fast!

This might sound counterproductive and a bit totalitarian but the reference cards also ensure that the initial high end videocards that are released adhere to a high standard. Only after manufacturers work out the kinks in manufacturing does nVIDIA allow sales of third party videocards.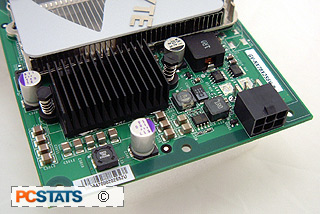 Physically the Gigabyte GV-NX78X256V-B is quite a big videocard at 22.5 x 9.5 cm in size and you would not want to put this card in a cramped case. Built on the smaller 0.11 micron manufacturing, the nvidia Geforce 7800GTX core can get away with a single slot cooler, unlike previous generations of nVidia's high end vacuum cleaners. Still, you'd probably want to keep the GV-NX78X256V-B away from other expansion cards to be sure it has good system airflow.
Gigabyte typically includes a decent software bundle with its videocards and the GV-NX78X256V-B is no exception. The videocard comes with two full version games, Joint Operations: Typhoon Rising and Xpand Rally, both of which look beautiful with 8xAA and 16x AF. ;-) Since the Gigabyte videocard also supports VIVO, included is a full copy of PowerDirector 3 as well which is handy for video editing.
The users manual that accompanies the Gigabyte GV-NX78X256V-B is very well written. If during installation you get lost, the users manual will definitely be able to guide you through the troubles.