Overclocking Results:
The Gigabyte GV-NX78X256V-B is already a smoking fast videocard but of course we'd never leave well enough alone. ;-) Starting with the core which is clocked at 430 MHz when running in 3D mode I slowly raised its clock speed a few MHz at a time....
Things went by pretty smoothly and we easily broke the 450, 460 and 470 MHz mark without any problems. The Gigabyte GV-NX78X256V-B seemed to be up to the overclocking challenge and the core hit 507 MHz before things started to go crazy. Anything higher and visual artifacts would start to appear on the screen when running 3DMark05 or the CodeCreatures benchmark. During overclocking, the fan speed did not increase one bit, and so the card was still very quiet.
At 1200 MHz, the memory is already clocked pretty darn fast but with Gigabyte equipping the card with Samsung GC16 GDDR3 BGA DRAM modules, I was hoping for more. Jumping up in about 10 MHz intervals, the GV-NX78X256V-B easily cracked the 1300 MHz mark and went as high as 1378 MHz before artifacts started to show up.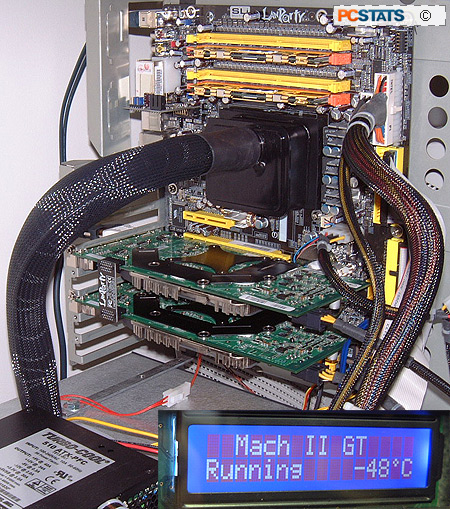 Separating itself from the Albatron GeForce 7800GTX which PCSTATS reviewed previously, the Gigabyte GV-NX78X256V-B's core and memory had no problems running at maximum clock speed. When monitoring the core speeds however we did notice something interesting...
Interesting Clock Speed Phenomenon
If you haven't guessed RivaTuner is my favorite videocard overclocking/tweaking utility simply because it's so powerful. One thing I noticed while testing the GV-NX78X256V-B videocard was that the RivaTuner (version 2.0 15.6RC) would report that the G70 core was running approximately 40 MHz higher than default (470 MHz as oppose to 430 MHz). After reading this news blurb over at Guru3D, I realized that this was not an isolated incident and occurs when the videocard is overclocked as well!


At stock, Rivatuner reports that the core runs at 470 MHz.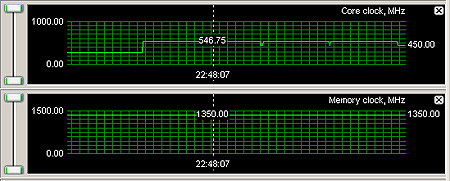 RivaTuner Reports OC core clock speed ~40 MHz higher
We've contacted nVIDIA about this curious issue, but are currently waiting for a reply. Once we get the word, we'll pass it along.

PCStats Test System Specs:
processor:

amd athlon64 4000+

clock speed:

12 x 200 mhz = 2.4 ghz

motherboards:

dfi lanparty nf4 sli-dr (nf4-sli)

videocard:

msi rx850xt-td256e
msi rx800xt-vtd256e
ati radeon x800 xl
powercolor x700 pro
powercolor bravo x700
geforce 7800 gtx sli
albatron geforce 7800 gtx
msi nx6800gt-t2d256e
msi nx6800-td128e (single)
msi nx6800-td128e (sli mode)
gigabyte gv-3d1 (single mode)
gigabyte gv-3d1 (sli mode)
msi nx6600gt-td128e (single mode)
msi nx6600gt-td128e (sli mode)
msi nx6200tc-td32e
gigabyte gv-nx78x256v-b

memory:

2x 512mb mushkin pc3200 l2 v2

hard drive:
74gb wd raptor 10k rpm sata hdd
cdrom:
aopen 52x combo
powersupply:
seasonic super tornado 400w
heatsink:
prometeia mach ii gt (review)
Software Setup

WindowsXP Build 2600
nForce
Catalyst 5.7
Detonator 77.72

Benchmarks

3DMark2001SE
3DMark05
CodeCreatures
Gun Metal 2
X2 The Threat
UT2003
Doom3

AA Test, AF and AA+AF Test
3DMark2001SE
UT2003
The AGP and PCI-E systems use a different motherboard but results are shown for reference. Unfortunately there are no AquaMark3 numbers for this review, we could not get the benchmark working.