The face of the Syncmaster 930MP's silver bezel is cleared of virtually everything except for a centrally located back lit power button and the circular control pad which integrates the channel changing and volume controls.
The control pad also serves as a navigational control for moving through the graphical menu system. Easily accessible audio and video connections line the first few inches on the left hand side of the 930MP monitor, and on the right, display control and menu buttons. A headphone jack, S-Video port, and a set of composite (RCA) inputs make connecting a camcorder or similar device a snap. No need to dig around the back of the Samsung 930MP for a quick playback of the day's home movies.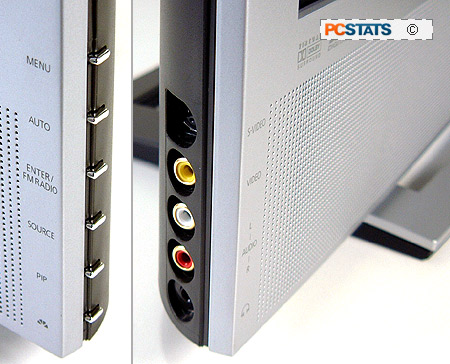 Below the 19" a-si TFT/PVA LCD screen are a set of 3" 5W stereo speakers which actually knock out pretty good sound considering the small size. While watching some television through the monitor, we were able to raise the volume to about 80% before the distortion began to kick in through the small speakers. In the on screen menu, the 192MP can be configured acoustically for a few audio pre-sets; standard, music, movie, speech, or custom.
Unlike older models in the MP series, the SyncMaster 930MP features Virtual Dolby surround sound as well as BBE digital sound processing. While the built-in speakers can't really do justice to either of these effects, BBE noticeably adds clarity and punch to the sound coming out of the display.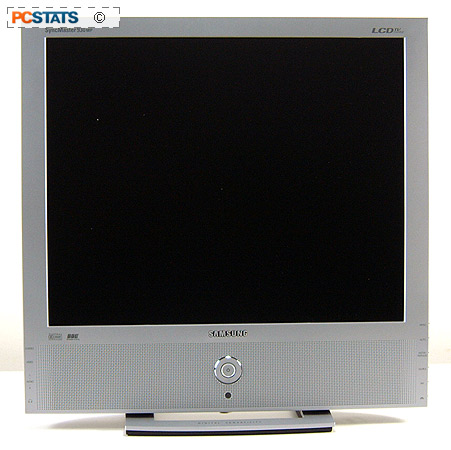 Since every TV needs a remote, Samsung bundles a handy and attractive infrared remote control with the 930MP (with AAA batteries too!). The remote can operate every aspect of the display, and was functional from a useful distance.
There is no swivel built into the base of the stand, the entire display will need to be rotated from side to side. Likewise, there is no vertical high adjustment mechanisms. What the Syncmaster 930MP does allow the user to adjust is tilt, with the display tilting back about 15-20 degrees to accommodate different viewing positions of the user. The display stand can be folded up out of the way if the 930MP is to be hung from a 100mm VESA wall mount (not included).