The LCD monitor has virtually taken over the computer display industry, as anything other than low-end PCs now ship almost exclusively with these thin and elegant screens where once there were clunky CRTs. One market that LCDs are only just starting to make waves in is Television. The last year has seen many companies release really low-end LCD displays intended for use as a television display, rather than as computer monitor. Though the prices for these devices are currently sky-high and the display quality not overwhelming, it's a promising sign for a 'thinner' future.
Samsung is a giant in the LCD industry, both as an LCD panel manufacturer and retailer. As LCD's popularity has soared, innovation has been key to making individual LCD displays stand out from the background clutter. Features such as fully integrated TV-tuners, high brightness and contrast ratios, speakers that have reasonable sound quality, and zero footprint mounting all help to give consumers more for their money. Bearing that in mind, Samsung has released several iterations in its 'MP' line, all of which bring new meaning to multimedia.
The Samsung SyncMaster 930MP is the latest hybrid LCD/TV display from the company, and the focus of this review. This Syncmaster 930MP features a 0.294mm dot pitch, 19" screen, 1000:1 contrast ratio, luminance of 250cd/m2 and a native resolution of 1280x1024 pixels. More to the point, the 930MP integrates a TV and FM tuner into its chassis, allowing it to function as a standalone television set and FM radio (AM is not supported) as well as a DVI/analog compatible computer monitor. It retails for approx. $750USD ($920CDN).

Samsung 930MP 19" LCD Monitor

Includes:

Manual, remote control, analog video cable, power cable and AC adaptor, microphone cable, FM antenna, coaxial adaptors (2), 2x AAA batteries, software.

SPECIFICATIONS:
Screen size: 19"
Brightness: 250 cd/m2
Contrast Ratio: 1000:1
Viewing Angle: 160°/160°
Interface: Analog/DVI
Resolution: 1280x1024
Pixel Pitch: 0.294mm
Response Time: 25ms
Power Draw: 58W
Dim. w/o stand: 433 x 436 x 48mm
The most obvious talking point of the SyncMaster 930MP is its ability to function as both a large desktop LCD monitor and a decent-sized LCD TV screen. At the rear of the display you will find a FM antenna input, coaxial cable input, component inputs (y, Pb, Pr) for a DVD player, in addition to analog and digital computer display connections and a host of other multimedia ports which we will detail later in the review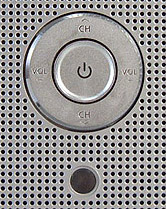 The Samsung Syncmaster 930MP 19" screen features viewing angles of 178/178 degrees, a brightness rating of 250 CD/m2, and contrast ratio of 1000:1 - among the highest contrast ratios's we've seen in fact. With perks like picture-in-picture, a IR remote control, and a 1280x1024 pixel (0.294mm) resolution, the pixel response times are a pedestrian 25ms?!
A folding stand compliments the 100mm VESA mounting points on the back of the panel which can be used to hang the Samsung 930MP on the wall. The stand can be folded up out of the way, or removed entirely. No wall bracket is included, nor is a DVI video cable for that matter. When mounted up on a wall, the infrared remote control comes in handy, as it brings full functionality to the 930MP in all its multimedia respects.
Because the TV-tuner and FM-radio receiver are integrated directly into the Syncmaster 930MP display itself, these features are completely separate from the attached PC.

Most of the controls necessary to operate the display are present in the on screen menu system which is accessible through the display's control panel, so loosing the remote won't cause much of a headache, though it is very handy for channel surfing.
Additionally, when features like the 930MP's Picture-in-Picture are tuned on there is no impact on the PC, again because the TV-tuner in the LCD display is handling all the work. The size, location, opacity (opaque vs. transparent) and source signal (TV, AV, SVideo, Component) for the PIP box can be adjusted too. Samsung have certainly made PIP easy to use without obstructing the background information, a point that can often be limiting when watching TV on the PC screen while trying to do work.
The picture-in-picture controls allow the user to adjust the size (left) and orientation (right) of the PIP screen, with about four different variations for each. In addition the PIP signal can be changed from TV, to S-Video, Component, or AV. PIP quality is better than full screen because the signal is shown at a size which is more in line with televisions 640x480 resolution.
PIP screens are notorious for blocking the information behind them, meaning it's almost impossible to do work while watching the evening news, or your favorite DVD. The Samsung 930MP resolves this frustrating point with different opacity levels for the PIP box, fully opaque (left) or three levels of transparency (right).
Under power, the Syncmaster 930MP display draws 58 Watts via its power brick AC-adaptor, and in standby only about 2 Watts.
In use, LCD displays are much more power efficient than comparably sized CRT monitors, and if used in a large corporate environment to replace CRTs they can reduce energy costs drastically. LCD displays are still priced higher than comparable CRT monitors, but the disparity is decreasing every year as the volume of LCD's sold skyrockets.