Abstract: This Syncmaster 930MP features a 0.294mm dot pitch, 19" screen, 1000:1 contrast ratio, luminance of 250cd/m2 and a native resolution of 1280x1024 pixels.


86% Rating:

Home > Reviews > Monitors > Samsung SyncMaster 930MP
Inputs and Multimedia Connections
For monitor display purposes, the Samsung Syncmaster 930MP supports both 15-pin Analog and DVI video connections. The monitor doesn't ship with a DVI cable, which is unfortunate as they tend to be expensive.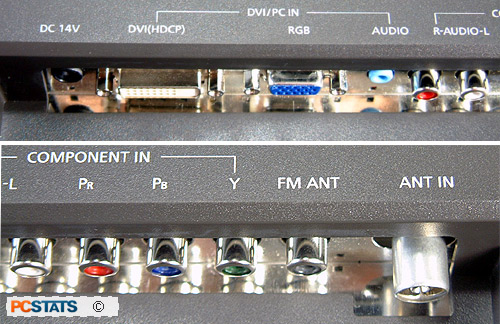 Power is supplied to the Syncmaster 930MP by a DC power brick, similar to a laptop power supply cable. If the 930MP is wall mounted, or placed on an armature, the thin DC power cable is a lot easier to hide than a standard power cable.
Television and display inputs round back include component (Y, Pb, Pr), a coaxial antenna jack, a coaxial FM radio jack for the included antenna, and a EXT port for SCART connections. A microjack stereo audio input is also present for outputing sound from a PC through the 930MP's speakers, ie. when playing games.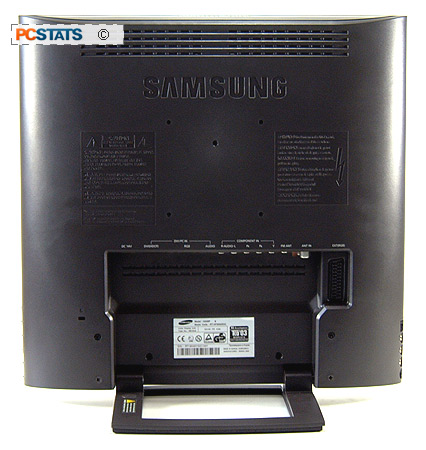 The entire display is well balanced on the non-swiveling stand. The unit weighs 13lbs, making it light enough to move on its own from side to side. The stand tilts backwards a few degrees to accommodate different user viewing preferences.
OSD and Display Evaluation Notes
Samsung's OSD menu system has been slightly upgraded visually from previous models in the MP series, and is now similar in appearance to that of the 61" HLN617W DLP HDTV PCSTATS reviewed recently. The menu options themselves have changed little, though a few new options are available on the various screens. Navigation using the control pad on the the front bezel is straightforward.
Input controls and picture settings here. There are several setting for making the picture suite movies, tv, or sports (for example).
Sound and channel settings here. The 930MP's TV-tuner will work with cable or air signals from several different regions in the world.
Setup and language options here. The display is compatible with American, Asian, African, and European standards.
Sound options allow you to customize by music, movie, or custom bass and treble settings, as well as control the virtual Dolby and BBE effects. As with all LCD's capable of analog-input, the best way to configure the screen is use the "Auto Adjust" key and just sit back while the screen configures itself. When it is connected to the PC via the DVI port, not adjustments are necessary.