Abstract: This Syncmaster 930MP features a 0.294mm dot pitch, 19" screen, 1000:1 contrast ratio, luminance of 250cd/m2 and a native resolution of 1280x1024 pixels.


86% Rating:

Home > Reviews > Monitors > Samsung SyncMaster 930MP
LCD Display Evaluation Notes

PCStats LCD Display Evaluation Criteria

PCstats evaluates the screen characteristics of LCD monitors with the help of a program called Monitor Test. This software application displays a range of primary colours and special monitor test patterns which enable an observer to diagnose just about any visual problem, or defect an LCD display may be hiding.

The software consists of about eleven tests which can be run in steps, as adjustments are made through the OSD to optimize the monitor. Though some tests are primarily intended for CRT monitors, Monitor Test is still a good tool for evaluating common visual problems which can indicate of the quality of LCD panel used, and its limitations.

Two critical items not covered by Monitor Test are broken LCD pixels, and pixel response times, which if too slow, can cause blurring or ghosting of fast moving objects on the screen.

Broken Pixels: What we class as a 'broken pixel' can fall under any one of the following circumstances: pixels that are always on (any colour), pixels that are always off, pixels which are unable to display a primary colour or shade (red, green, blue), or pixels which only display white or black. While many manufacturers may consider a few broken pixels acceptable, we believe the high cost of LCD displays should translate into a clear and unblemished image that does not include a single conspicuous broken pixel.

Pixel Response Time: Pixel Response Times are measured in milliseconds, and account for the rise and fall state, or the total time it takes for a pixel to respond, and return back to its original state. We look for any streaking associated with moving a full page of text up and down very quickly. Displays with slow pixel response times tend to show some degree of image streaking, or text discoloration in this simple but effective test. Response times can also cause ghosting in games where there are many fast moving objects. A response time of 25ms or less is generally considered desirable.

All of our test parameters are user reproducible, so you can try them yourself when evaluating displays. :)


Test Specs:

Videocard:
Radeon 9600 XT
Operating System:
Windows XP

Display Settings:
Interface: Analog
Resolution: 1280x1024
Frequency:
60Hz
Colour:
32 bit

LCD Display Tests
Observations
Brightness and Contrast:

The SyncMaster 930MP display shows great gray scale shading. The white scale bars were clear and contrasted well with the black test background. The differences between the 1% and 3% black bar test was difficult to see. With a 1000:1 contrast ratio, the black background was jet black while the while was vibrant and strong.


Colour Vibrancy:

The white, red, green and blue test screens looked god, lacking any dull spots or dead pixels. Brightness of the screen is 250cd/m2, which translated well in these tests, but not as bright some other models which are available.


Colour Shading:

Colour transition and shading was very good, there was some banding between on the read and green tones but that's normal and regular CRT monitors suffer from the same thing. Despite what the tests may say, the colour of the SyncMaster 930MP is excellent no matter what type of application you use.


Resolution:
(native and non-native)

The native resolution of the SyncMaster 930MP is 1280x1024 and text at that setting was extremely sharp, though black text on a gray background seemed to have a faint 'white shadow' effect a pixel to the right of each letter. Using a non-native resolution like 1024x768, dithering was alright although you probably wouldn't want to run the LCD at a non-native resolution when working with 2D applications as there is a slight blurring effect.


Moire:

Since we tested with an analog signal there were some background waves in a few of the more challenging moire test patterns.


Broken pixels, response times and other evaluation notes:

We did not notice any broken pixels with the SyncMaster 930MP and this is something that Samsung has been very good at. At 60 Hz, moving text up and down did not produce any streaking and everything remained crisp.

With its 25ms pixel refresh rate, the Samsung 930MP is best suited for office work and as a TV/DVD playback. There are quicker LCD's on the market for FPS gamers (and specifically this type of gamer), but a few rounds of C&C will look just fine.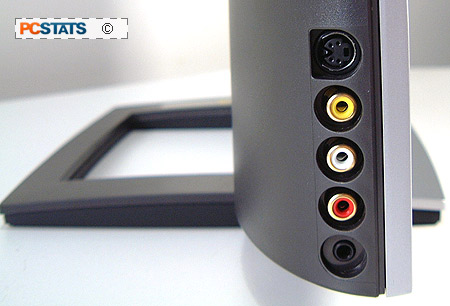 Like most LCD monitors, the Samsung Syncmaster 930MP is not best suited for 3D gaming. With its 25ms pixel response time, the monitor can and will display beautiful images in your favourite games, but it's never going to shift pixels as fluidly as a good CRT will.
If you're looking for a display which can handle the highest framerates and fragging action possible - get a CRT monitor. LCD displays have achieved many advances in monitor technology, but they still can't match the speed with which a CRT can draw an image without some perceptible choppiness, ghosting, etc... or look towards the flurry of 8ms LCD panels hitting the market.
That said, we didn't see any major problems with FPS gaming images on the 930MP, but consider another monitor if you are heavily into really quick first-person shooters. Television viewing with the SyncMaster 930MP is a positive experience, though due to the interpolation from the screen's natural 1280x1024 resolution, the picture is better from a few feet away than right up close.
We did notice some oddities with antenna signals. Compared to an older 192MP display, the SyncMaster 930MP behaved substantially differently, pulling in different qualities (sometimes better, sometimes worse) on the various receivable channels. What was more distracting though was the odd square distortion patterns noticeable on all the channels with poor reception. The infrared remote control worked well from over a dozen feet away, and it was easy to control the channels and volume of the 930MP. DVD playback on the 930MP was as expected from an LCD display - just fine.
The radio feature was an interesting addition to this display as well, but I dislike the fact that it keeps the LCD panel on to display the station ID, signal strength, and preset channel ID when it is just on the FM Radio setting (ie, PC is off). Even though the screen is basically black, the backlight is still being used, and its lifespan shortened. I would have preferred if the screen stayed off when the radio is on (and the computer off). On the plus side, when one is working on the PC and also turns on the radio, the information box is displayed for a moment and then goes away. Working away at the PC to the sounds of your favourite radio station has never been easier, and with the 930MP's ability to store preset stations, shifting down the dial is quick and painless.
The Samsung Syncmaster 930MP is priced at about $750USD ($920CDN). Obviously you can find lower-priced LCD monitors and probably less-expensive LCD TVs too, but you're going to have difficulty finding another product that wears both hats as well at that price. If you like the idea of a monitor that integrates speakers, a host of media inputs and does television and FM radio too, or you are looking to combine the two functions in a single room, take a long hard look at this sleek silver 19" screen. While it's not best suited for fast-paced FPS game playing, the Syncmaster 930MP with its 1000:1 contrast ratio handles both TV and computer display tasks extremely well.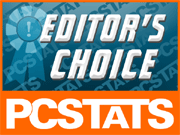 Find out about this and many other reviews by joining the Weekly PCstats.com Newsletter today! Catch all of PCstats latest hardware reviews right here.
Related Articles
Here are a few other articles that you might enjoy as well...
1. Samsung SyncMaster 243T 24-inch LCD Display Review
2. Samsung Syncmaster 173P 17-inch LCD Display Review
3. Samsung Syncmaster 172X LCD Monitor Review
4. Cornea Systems CT1904 19 inch LCD Monitor Review
5. ViewSonic P95F+B 19inch Monitor Review