Doom 3 is the most advanced game to date. it takes advantage of the latest videocard technology and pushes the processing power of the CPU to its absolute limit. At its highest setting, Ultra quality, texture sizes pass the 500MB mark which means even tomorrow's videocards will have a hard time running everything. The frame rates in the game itself are locked at 60 fps so anything above that point is wasted. Each test is run three times with the third run being recorded.
Doom3
LQ 640x480:
Points
Ranking
Albatron PX925XE Pro-R (925XE 200/533)
84.4
Gigabyte GA-8ANXP-D (i925X 200/533)
88.5
MSI 915P Neo2 Platinum (i915P 200/533)
83.6
DFI LANParty 875P-T (i875P 200/400)
81.4
ASRock 775V88 (PT880 200/400)
79.5
VIA PT894 Ref Motherboard (PT894 200/533)
78.1
AOpen i915Pa-PLF (915P 200/400)
83.3
Gigabyte GA-8N-SLI Royal (NF4-SLI 200/533)
85.3
ECS RS400-A (RS400 200/400 Onboard Video)
8.1
ECS RS400-A (RS400 200/400 X800 XT)
76
Gigabyte GA-8I945P Pro (945P 200/400)
93.1
Gigabyte GA-8I955X Royal
91.2
The Gigabyte GA-8I955X Royal finishes with a good result in Doom3, coming in a clear second again behind the occasionally surprising 945P-based board. At least 5FPS separate the Royal from the rest of the field though, which is a sign of the potential of the 955X Express chipset for gaming purposes.
Powerful, but not at its full potential
The Gigabyte GA-8I955X Royal is one of the first 955X Express offerings to hit the market, and a few rough edges showed, as is often the case with new boards using new chipsets. The board we tested performed slightly but measurably better when the second memory channel was populated as opposed to the first, and the faster the memory went (disconnected from the FSB speed which remained at 800MHz), the better the board performed. This is possibly due to the extra communication weight that the dual-core Pentium D processor adds to the FSB. Generally memory speed is irrelevant to performance when it is not directly linked to FSB speed, but that was definitely not the case here. High quality memory should be considered a must to get the best out of the 955X Express chipset and a dual core Pentium 4 processor.
The GA-8I955X Royal definitely gives buyers the royal treatment when it comes to add-ons and extras. The included Bluetooth adaptor is a great bonus (though wireless would arguably have been more useful) and we love the fact that Gigabyte has included every bracket, wire and cable necessary to take full advantage of this motherboard's extensive features. The GA-8I955X Royal is a flagship motherboard and Gigabyte pulled out all the stops to furnish it as such.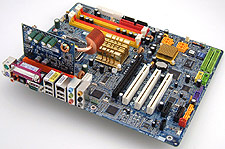 The motherboard's component layout is generally good, though users with large cases will find the additional SATA and IDE ports a severe pain to run cables to. We liked the thoughtful positioning of the PCI Express x1 expansion slots below the standard PCI slots, meaning that they do not sit next to the videocard. This is a great idea and one we hope to see more of in the future.
The GA-8I955X Royal's primary claim to fame is support for the Pentium D and Pentium Extreme Edition Dual-core processors. As we saw in our benchmarks, these dual-core chips can make dramatically short work of many office and content creation tasks. Based on the results, the GA-8I955X Royal would be an excellent workstation when paired with an appropriate dual-core processor like the Pentium D 840 we used in this review.
As a motherboard for gaming enthusiasts, the Gigabyte GA-8I955X Royal struck us as not quite ready for prime-time. Its scores were certainly adequate, and in a few places like the Doom3 benchmark they shone, but we were underwhelmed and left with the definite impression that the board was not living up to its full potential. One possibility is that the dual-core processor is more of a hindrance than a help when using a full-screen, single threaded application like most of the gaming benchmarks are; possibly the extra communication load imposed by the dual cores sharing the FSB drags down memory (and thus gaming) performance slightly. We're not entirely certain, and are looking into this further.
If you have a practical need for a dual-core system, then the GA-8I955X Royal will give you the accessories and performance needed to make a powerful office workstation. For overclocking enthusiasts, the motherboard offers plenty of tweaks and some good headroom for pushing your processor of choice. For gamers, the Gigabyte GA-8I955X Royal has a lot to offer, but doesn't manage to outshine Intel's previous high-end chipset in some areas.
At a price of $215US (CAN$310), the Gigabyte GA-8I955X Royal is not an overly affordable system board, but it's a capable one with good performance and overclockability and a variety of useful extras. If you are looking for a 955X-based motherboard to bear your new Pentium D or Extreme Edition processor, the Gigabyte GA-8I955X Royal fits the bill.
Find out about this and many other reviews by joining the Weekly PCstats.com Newsletter today! Catch all of PCstats latest hardware reviews right here.
Related Articles
Here are a few other articles that you might enjoy as well...
1. MSI 661FM3-V Motherboard Review
2. Gigabyte GA-8N-SLI Royal NF4-SLI Intel Edition Review
3. Albatron PX925XE Pro-R Motherboard Review
4. AOpen i915Pa-PLF Motherboard Review
5. ASRock 775V88 VIA PT880 Motherboard Review
6. Gigabyte GA-8I945P Pro Intel 945P Motherboard Review