Overclocking Results:

Seeing as the 955X Express chipset is Intel's newest flagship for the desktop performance market, we were very excited to see how it overclocked. Starting with the memory running at 533MHz as in our stock tests, we began increasing the FSB in 5-10MHz increments. We ran into trouble immediately, with the system refusing to boot at 210MHz. Increasing chipset voltage by 0.1V and memory voltage by 0.2V fixed this and we began to enjoy the overclocking experience.

The next snag hit at 230MHz FSB. The only way we could get the motherboard to boot was by reducing its internal speed to 400MHz and increasing chipset voltage by 0.3V. The processor also needed some more voltage, to the tune of 1.35V.

Moving up through 235MHz, 240MHz and 245MHz, we increased chipset voltage to the +0.35V maximum, and ended up running the CPU at a toasty 1.45V. Our final destination turned out to be 251MHz; anything beyond this would result in failed benchmarks and random crashing.

251MHz on air cooling is not bad at all, and I have a feeling we would have got further with a more intensive cooling method on the CPU. Gigabyte's debut 955X Express board is a good overclocker, which bodes well for both the company and the chipset.

Issues with the default BIOS and Dual Core P4 CPU

The motherboard we received for testing was using BIOS version 'F5' which did not want to work correctly with a 3.2GHz dual-core Pentium D 840 processor. The FSB and CPU multiplier speeds were consistently incorrect, the POST and BIOS claiming they were set to an odd 229x12 setting, while CPU-Z and Sisoft Sandra 2005 identified the processor correctly but showed it clocked to 12x200 = 2.8GHz. It performed like a 2.8GHz chip too.

Fortunately a quick request to Gigabyte brought forth the F7 BIOS version which corrected the above issues completely. At the time of writing, the F7 version did not appear to be available on Gigabyte's site, but we'd imagine it should soon be.

Inside the Gigabyte GA-8I955X Royal BIOS

In the Advanced BIOS Features section we find the CPU features section. By default the Pentium D 840 does not support HyperThreading; disabling HT in the BIOS actually disables the second physical core all together! The No Execute Memory protection can be enabled/disabled as you please and we find the CPU Enhanced Halt (throttling) feature here as well.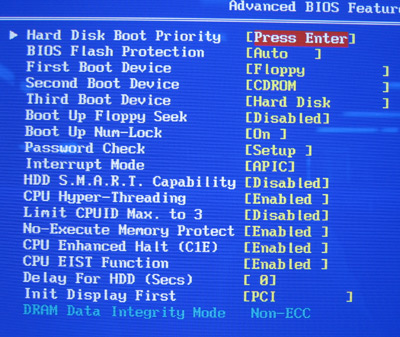 To access all the options in the MB Intelligent Tweaker, you must first press CTRL + F1 in the main menu. The FSB can be tuned between 100-600 MHz in 1 MHz increments as well as adjust the PCI Frequency between 90-150 MHz again in 1 MHz steps. Maximum DIMM voltage goes as high as 0.6V or 2.4V for DDR2 memory, PCI E voltage +0.35V and CPU voltage to 1.6V. Pretty nice, Gigabyte is usually pretty stingy when it comes to voltage settings.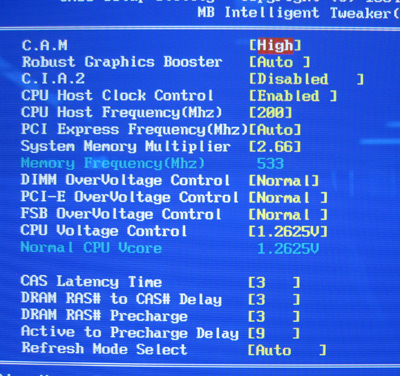 Finally we have our memory timing adjustments in this area as well, from CAS Latency to RAS to CAS delay and Active Precharge delay. Like most Gigabyte boards, the Dual-BIOS option is present on the GA-8I955X Royal and can be accessed by pressing F8 at the BIOS screen if ever necessary.

PCStats Test System Specs:
processor:

intel pentium 4 d 840
intel pentium 4 540

clock speed:

16 x 200 mhz = 3.2 ghz
16 x 200 mhz = 3.2 ghz

motherboards:

albatron px925xe pro-r (925xe)*
gigabyte ga-8anxp-d (925x)*
msi 915p neo2 platinum (915p)*
dfi lanparty 875p-t (i875p)**
asrock 775v88 (pt880)**
ecs rs400-a (rs400)*
via pt894 ref motherboard (pt894)*
aopen i915pa-plf (915p)*
gigabyte ga-8n-sli royal (nf4-sli ie)*
gigabyte ga-8i945p pro (945p)**
gigabyte ga-8i955x royal (955x)**

videocard:

msi rx800xt-vtd256e*
asus x800xt/vtd**

memory:

2x 512mb crucial ballistix pc5300 ddr2

hard drive:
40gb western digital special ed
74gb western digital raptor sata
cdrom:
aopen combo 52x
powersupply:
seasonic super tornado 400w
software setup

windowsxp
via 4in1 4.55v
forceware 6.53
catalyst 5.4

workstation benchmarks

sysmark 2004
business winstone 2004
content creation 2004
super pi
sisoft sandra 2005
pcmark04
3dmark2001se
3dmark05
aquamark3
comanche 4
x2: the threat
ut2003
ut2004
doom 3
pcstats has upgraded its test platform with a couple of 74gb western digital WD740 Raptor hard drives, replacing the trusty 40GB WD IDE HDDs as test drives. Please keep that in mind when viewing the office and disk benchmarks. Note that this board was tested with the Intel Pentium 4 D 840 CPU, while the remaining reference boards were tested with an Intel Pentium 4 540 CPU; both are clocked at 3.2GHz.