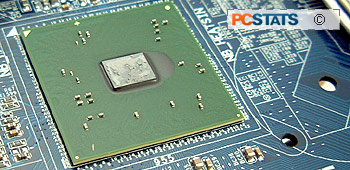 The 955X Express does add more than just support Intel's new dual-core Pentium D and Extreme Edition processors. The core logic brings serial ATA II to the table, a standard which was previously only available for Intel-based systems through nVidia's nForce 4 Intel Edition chipsets.
The 955X Express chipset works exclusively with DDR II memory and can support up to 8GB of it. ECC memory is supported for workstation applications, though the bulk of desktop motherboards built on the chipset will probably leave this feature out.
Graphics come care of a PCI Express x16 video connector, and though Intel currently supports only a single PCI Express x16 slot for one videocard, that may change with future motherboards. Rumors are wild that the 955X Express chipset can support dual PCI Express connectors if desired (and allowed), and may even end up hosting ATI's upcoming CrossFire dual PCI Express technology. These are the rumors, but keep in mind that none of this is possible with the GA-8I955X Royal motherboard.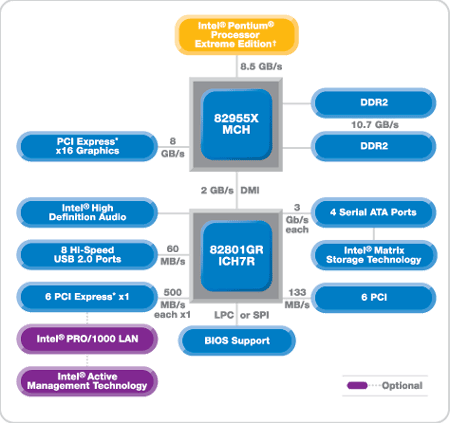 The Intel 955X Express is partnered with the Intel ICH7R Southbridge controller, giving it ample multimedia capabilities. The ICH7R only supports a single ATA-100 IDE controller, which is frustrating, but provides four SATA II ports, an integrated Gigabit network adaptor and eight USB 2.0 ports. Gigabyte has included a GigaRAID controller on the GA-8I955X Royal motherboard, so at least its users can install four IDE devices. The ICH7R chipset includes RAID modes 0,1,5 and 10. Native Command Queuing is not supported by the ICH7R's SATA controller as it is in nVidia's Intel chipset however.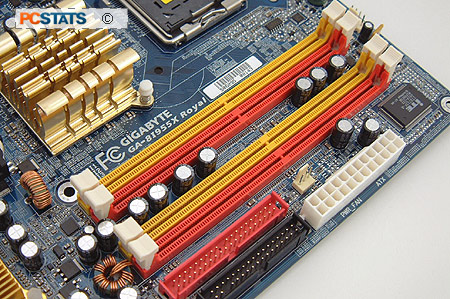 One notable improvement over current PCI Express chipsets is in the number of PCI Express lanes that the 955X Express supports when connected to the ICH7R Southbridge. In addition to the 16 lanes reserved for the videocard, an additional six lanes can be used for six PCI Express x1 connectors, one PCI Express x4 and two PCI Express x1, or other combinations. That's two more lanes of PCI Express than most other chipsets can boast, giving this new Intel chipset a boost for the future.
The Intel 955X Express Northbridge and ICH7R Southbridge chipsets are connected by means of a 2GB/s Direct Media Interface link, just like the previous generation 925X/ICH6R Northbridge/Southbridge combination.
Overall, the 955X Express currently has the effect of putting Intel even with nVidia in terms of the features the companies can offer on the Intel processor platform. The 925X chipset looked distinctly low-tech next to the nForce 4 Intel Edition, so the 955X Express's features were a necessary next step for Intel. The most important factor though, is that Intel now has a chipset to support its dual-core CPUs.