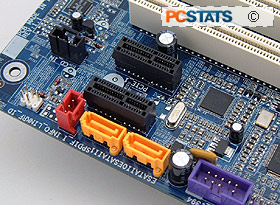 The layout of the GA-8I955X Royal is good overall, though we wish that Gigabyte had moved the extra 2 SATA II and IDE ports up from the bottom of the board to a more accessible location. The extra SATA ports are in an especially bad position for users with large cases. Other than that, we found little to complain about.
We like how Gigabyte has positioned the PCI Express x1 slots below the PCI slots instead of above them next to the PCI Express x16 slot as is traditional.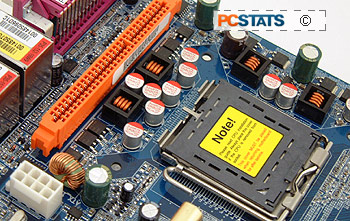 This means that you will have more room for important PCI Express peripherals in the future. Everything is fairly well labeled on the board. There is no BIOS reset jumper or even contact plates, which is kind of annoying. The manual instructs the user to remove the battery in situations requiring a BIOS reset. The board features a back up BIOS, so in the unlikely event the primary BIOS is corrupted, the backup BIOS will kick in and save the day.
The GA-8I955X Royal motherboard can use either 20 or 24-pin ATX power connectors and comes with a small plastic insert to block off the unused four pins if necessary. The same goes for the secondary 12V input which can take either four or eight pin connectors and comes with an identical insert. We used 24-pin ATX/8-pin secondary for all testing.
By default, the 955X Northbridge chip is passively cooled, but Gigabyte has included a fan (complete with blue LEDs) that clips to the top of the heatsink. There's absolutely no reason not to use this, as installing it takes only a few seconds, even for a novice. We used the fan for all testing.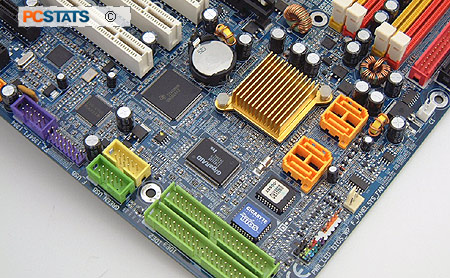 Gigabyte includes the U-Plus Dual Power System, an add-on card that plugs into a slot next to the CPU and provides four additional phases of power conditioning, helping to ensure that your processor has clean and stable power fed to it at all times. The U-Plus also sports a four LED boot diagnostic system with eye-burningly bright blue LEDs. The U-Plus is cooled by a small passive copper heatpipe that uses the air flow from the processor heatsink. The U-Plus DPS was installed for all tests.