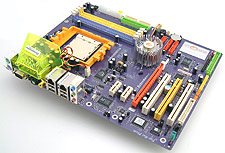 Computer enthusiasts should take pride that their past efforts to spice up that dull old beige PC have not been in vain. Manufacturers have taken notice, and computer components have become colour-coded bundles of circuitry that would have been hard to predict 5 years ago.
Heck, the last time I strolled through FutureShop, a plane-Jane PC & consumer electronics retailer by anyone's standard, I saw cold cathodes, LED fans and computer cases with side windows. It's a good testament to just how mainstream modding and enthusiast creations have become.
ECS has long been an OEM/low cost motherboard maker, and as that field has become more competitive with the likes of ASRock, Gigabyte's RZ-series and the like, it has been forced to innovate to retain its market share. At first glance, ECS' new 'Extreme' motherboards are flashy, well performing, well rounded and best of all very affordable!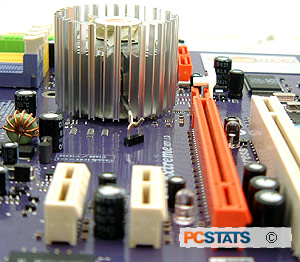 With a retail price of $128 CDN ($108 US), the socket 939 Athlon64 ECS KN1 Extreme comes with quite a few goodies like an additional Serial ATA/IDE RAID controller, Gigabit and 10/100 LAN, 5.1 channel audio and IEEE 1394a Firewire. Should that not be enough for you, the board has three PCI slots and two PCI Express x1 sockets for future expansion, not to mention its PCI Express x16 socket for the latest videocards.
ECS did a pretty good job with the board itself, but there are a few areas of layout which could stand to be improved on. The large nForce4 Ultra chipset heatsink may be troublesome in certain situations as we mentioned, but with the way the board has been built that's unavoidable.
The area adjacent to the rear I/O headers can the source for a lot of the heat generated in a chassis, and the little 40mm exhaust fan and air scoop are a novel way of decreasing internal case temps.
The performance of the ECS KN1 Extreme was generally very good, and certainly excellent if we take price into consideration. In the workstation style benchmarks like SYSMark2004 or Content Creation 2004, the ECS KN1 Extreme kept up with the best, but it really shined in the 3D tests like UT2003/2004, Doom 3 or Comanche 4. ECS is traditionally weaker on the overclocking front, and as we saw here the company still has some work to do if it hopes to attract this segment of users in the future.
Ultimately, if you're looking to build a budget Athlon64 system the ECS KN1 Extreme motherboard is a great choice, in spite of its few irksome qualities. It's inexpensive and lightning fast like just about every other Athlon64 board on the market, and in the end that's what really makes it appealing.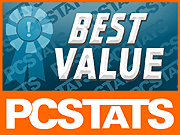 Find out about this and many other reviews by joining the Weekly PCstats.com Newsletter today! Catch all of PCstats latest hardware reviews right here.
Related Articles
Here are a few other articles that you might enjoy as well...
1. Asus A8N-SLI Premium Athlon64 Motherboard Review
2. ECS PF88 Extreme Hybrid Intel/AMD Motherboard Review
3. Foxconn WinFast NF4SK8AA-8KRS Motherboard Review
4. Foxconn WinFast NF4K8AC-8EKRS Motherboard Review
5. MSI RS480M2-IL Motherboard Review