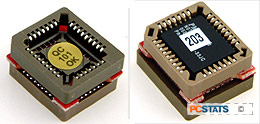 ECS has come up with a novel way of protecting end users from the experience of a bad BIOS flash. Rather than mounting two BIOS chips on the motherboard itself, a second is supplied in a specialized double-sided BIOS socket. ECS call this backup solution the "Top-Hat" flash module.
Since the surface mounted BIOS ROM contacts are exposed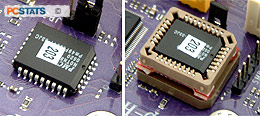 on the actual motherboard, the backup ECS "Top-Hat" flash module can simply clips on top of the board mounted BIOS chip when it is needed.
Should there be a bad BIOS flash, the ECS Top-Hat flash module will take over from the onboard BIOS, and once the board is up and running take off the Top-Hat device and proceed to re-flash your motherboard. The process is very simple and it works quite well, just make sure you keep the Top-Hat module in a safe spot that you will remember!
Overclocking the ECS KN1 Extreme

Overclocking Results:
Overclocking is traditionally a weak spot for ECS boards, but after seeing the nice voltage options on the KN1 Extreme we were hoping for better luck at it.
Before we started the overclocking session, I first lowered the memory clock speed to 166 MHz mode. I would have decreased the CPU multiplier as well but that option was not available, perhaps ECS can include this option in future BIOS revisions.
Starting at 200 MHz FSB I raised the motherboard clock speed slowly in ~10 MHz intervals. Things went by pretty well for the KN1 Extreme until the system hit its first snag at 217 MHz. Increasing the processor voltage to 1.6V solved the problem though. Remember, the multiplier is stuck at 12x so when we increase the motherboard clock speed, the CPU speed also increases.
I continued to increase the frequency and the motherboard eventually maxed out at the 238 MHz mark, anything higher and the system would BSOD while running 3D benchmarks. Increasing the CPU voltage or lowering the HTT frequency did not appear to help in any way, so I left it at that.
Investigating the BIOS Options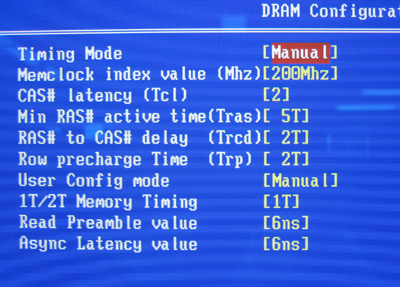 ECS gives end users the same memory timing adjustments we would expect from a high performance motherboard. From CAS Latency, to Row Precharge and RAS to CAS delay, tweakers should be familiar with the settings here.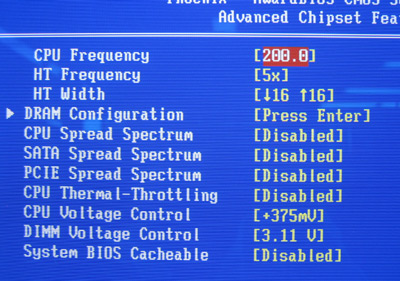 The motherboard clock speed can be adjusted from between 200-250 MHz in 1 MHz increments. You can also increase the CPU voltage +0.375V above stock and increase the DIMM voltage to 3.11V which is quite a bit!

PCStats Test System Specs:
processor:

amd athlon64 4000+

clock speed:

12 x 200 mhz = 2.4 ghz

motherboards:

asrock k8 combo-z/asr (ali m1689)*
soltek sl-k8tpro-939 (k8t800 pro)*
epox 9nda3+ (nf3 ultra)*
albatron k8x890 pro ii (k8t890)**
gigabyte ga-k8nxp-9 (nf4 ultra)**
epox ep-9npa+ ultra (nf4 ultra)**
msi k8n neo4 platinum (nf4 ultra)**
gigabyte ga-k8nxp-sli (nf4 sli)**
msi k8n neo4 platinum/sli (nf4 sli)**
dfi lanparty nf4 sli-dr (nf4 sli)**
asus a8n-sli premium (nf4 sli)**
ecs kn1 extreme (nf4 ultra)**

videocard:

asus x800xt/vtd*
msi rx800xt-vtd256e**

memory:

2x 512mb mushkin pc3200 special ed.

hard drive:
40gb western digital special ed
74gb western digital raptor sata
cdrom:
aopen combo 52x
powersupply:
pc power & cooling turbocool 510 sli
software setup

windowsxp
via 4in1 4.55v
forceware 6.53
catalyst 5.4

workstation benchmarks

sysmark 2004
business winstone 2004
content creation 2004
super pi
sisoft sandra 2004
pcmark04
3dmark2001se
3dmark05
aquamark3
comanche 4
x2: the threat
ut2003
ut2004
doom 3
pcstats has upgraded its test platform with a couple of 74gb western digital WD740 Raptor hard drives, replacing the trusty 40GB WD IDE HDDs as test drives. Please keep that in mind when viewing the office and disk benchmarks.