It is amazing to see how large the reach of the hardware enthusiast community has become. Enthusiasts have shaped and directed trends within the computer industry for the last couple years just by doing what they like to do the most - push hardware to the max and customize their own systems. From vividly coloured cases to flashy lighting, and of course increased overclocking options, life is pretty sweet if you're a "geek".
ECS is known as a manufacturing heavyweight in Taiwan, and for a good reason, it makes a ton of motherboards. Since the early spring of this year though, ECS has been trying hard to improve its retail image and win back some of the market share for value-oriented consumers that it has lost to rival ASUS' no frills ASRock motherboard division. Affordable motherboards are after all the bread and butter of the industry, though generally only the deluxe models with all the options get any kind of media attention. In the sprit of competition, gone are the paper thin boxes with only a bare motherboard and users manual, and now the bundles of goodies are improving nicely.
Considering the sheer capacity for production that ECS holds, this newfound revitalization in its products is a positive turn for a brand which has been hallmarked for its almost single-minded competition on prices alone. If ECS gets it right, Tier One manufacturers had better start taking the encroachment of ECS on their enthusiast territories quite seriously. In the first salvo we find the ECS KN1 Extreme nForce 4 Ultra motherboard, a concise example of how far ECS is willing to go to win over consumers.
Hardware features on the socket 939 AMD Athlon64 ECS KN1 Extreme include an additional Serial ATA/IDE RAID controller, IEEE 1394a, a 5.1 channel audio codec and two network cards (one Gigabit, one 10/100). To top things off, ECS also throws in a decent software bundle and a little I/O slot exhaust fan. The board itself is based on the nVidia nForce 4 Ultra chipset, which means that one PCI Express x16 videocard is supported, but not SLI. Expansion comes care of the three PCI slots, and two PCI Express x1 sockets. Dual channel DDR memory is supported on four DIMMs, with a total capacity of up to 4GB of PC3200 RAM.

ECS KN1 Extreme Motherboard



Includes:

Users manual, Ultra/133 IDE Cable, Ultra/33 IDE Cable, Floppy Cable, Six Serial ATA Cables, Molex to Serial ATA Power Cable, Network Cable, Parallel Expansion Bracket, USB/IEEE 1394 Bracket, Front Panel I/O Bracket, Dual BIOS chip I/O Shield, Case Screws
The KN1 Extreme is a full size ATX motherboard and mounts to the case via ten positions. Having worked with ECS motherboards a few years ago, I must say that I am pleased to see ECS including more accessories with its motherboards. Back then you would get a few HDD/Floppy cables, an I/O shield and users manual; now ECS is bundling extras like BIOS saviors, front panel I/O drive bay and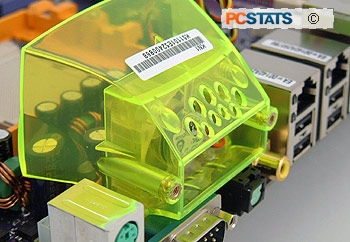 software!
Round back, the I/O ports consist of a pair of network jacks (one 10/100, the other GbE), the audio jacks, SP/DIF and in place of where the parallel port traditionally goes, a fan exhaust. The bright green plastic air scoop and 40mm fan are intended to quickly remove some of the hot air generated by the socket 939 AMD Athlon64 processor and power MOSFETs from the case, thereby lowering overall internal temperatures.
The concept is good, but we're left wondering why the I/O shield is still just cut for a parallel port? A real vent for this exhaust fan should have been incorporated in to the I/O plate.