The fan is replaceable, should it ever seize, and did not add to the general noise level of the computer to any noticeable degree.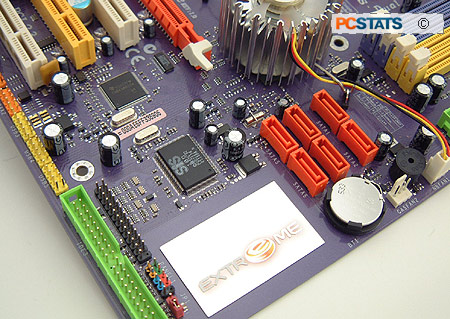 Elsewhere on the ECS KN1 Extreme we find a SiS 180 SATA/IDE RAID controller. Current motherboards are phasing out IDE in favour of a plentiful forrest of Serial ATA slots, so it's nice to see this addressed by including IDE friendly hardware.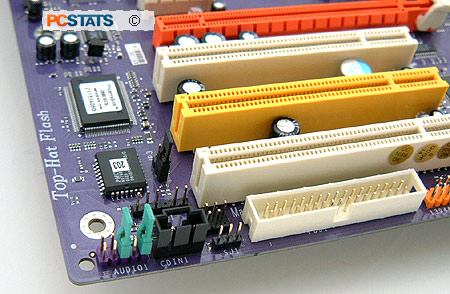 The SiS 180 chipset runs through the PCI bus, though we are of two minds as to whether such devices are best serviced by running through a dedicated PCI Express lane.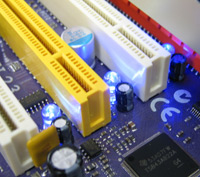 At the board level, components are organized well, but not ideally. From my own experiences, I find the location of the floppy drive connector and analog Audio header to be really irksome. Residing where they do, under the last PCI slot at the edge of the PCB, means the cables will have to wrap around all the other expansion cards for starters. Secondly, when the board is installed in a case, this location is among the least accessible when PCI cards are installed.
In between the expansion slots are blue LEDs that shine brightly and blink at random. ECS does its job to make sure the ECS KN1 Extreme will get noticed if you have a window in your PC case.
The Big Chipset Heatsink
It is common knowledge that the nVidia nForce4 chipset can be a little hot plate at times and this is addressed with a very large circular extruded aluminum heatsink. During operation, the heatsink was not audible which was nice, and the heatsink was generally only moderately warm to the touch. After market Northbridge heatsink won't work with the board however, as the ECS KN1 Extreme is equipped Intel-style heatsink clips instead of holes through the PCB.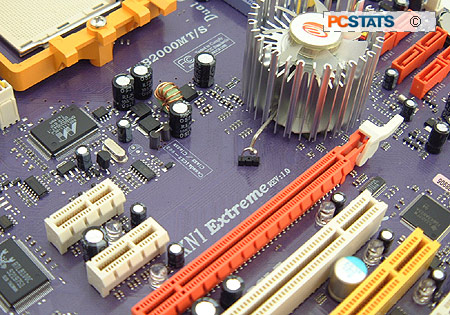 Given that this heatsink is directly behind the first two PCI Express x1 sockets (60mm from the rear of the socket), we'd also like to point out that PCI-E x1 cards much longer than 120mm will not fit into those first two slots. PCI Express x16 videocards with bulky rear heatsinks may also run into trouble as there is a sant 7-8mm separation between the 35mm tall heatsink and the rear of the videocard PCB.