Doom 3 is the most advanced game to date. it takes advantage of the latest videocard technology and pushes the processing power of the CPU to its absolute limit. At its highest setting, Ultra quality, texture sizes pass the 500MB mark which means even tomorrow's videocards will have a hard time running everything. The frame rates in the game itself are locked at 60 fps so anything above that point is wasted. Each test is run three times with the third run being recorded.
Doom3
LQ 640x480:
FPS
Ranking
Gigabyte GA-81955X Royal (955X 200/533)
91.2
Gigabyte GA-81945P Pro (945P 200/400)
93.1
Gigabyte GA-8N-SLI Royal (NF4-SLI 200/533)
85.3
Albatron PX925XE Pro-R (925XE 200/533)
84.4
Gigabyte GA-8ANXP-D (i925X 200/533)
88.5
MSI 915P Neo2 Platinum (i915P 200/533)
83.6
DFI LANParty 875P-T (i875P 200/400)
81.4
ASRock 775V88 (PT880 200/400)
79.5
VIA PT894 Ref Motherboard (PT894 200/533)
78.1
ECS RS400-A (RS400 200/400)
76
Foxconn 955X7AA-8EKRS2 (955X 200/533)
85.8
While the frame rates in Doom 3 are decent, one must remember that even this relatively new game cannot take advantage of dual core processors. This is something to keep in mind if you are a hardcore gamer. While office applications are another story altogether, you would probably be better served in getting a faster single core CPU than a dual core unit at this time.
Keep up the good work Foxconn!
Based on the high end Intel 955X chipset, the Foxconn 955X7AA-8EKRS2 motherboard obviously supports all the dual core goodness Intel is pimping right now, and the board comes with a great set of goodies. Standard features for the '-8EKRS2' version of the base Foxconn 955X7AA board are Intel's high definition Azalia audio controller, two Gigabit NICs, an additional Serial ATA/RAID controller and an IDE RAID controller. It's a highly integrated platform, but one which is still very upgradable thanks to the three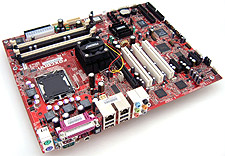 PCI slots and three PCI Express x1 sockets in addition to the PCI Express x16 graphics port.
Overall, the Foxconn 955X7AA-8EKRS2 board is well labelled (aside from the front panel I/O for some reason) and the users manual/quick install guide are very detailed and clear. If you have any problems, the documentation can surely lead the way. A minor detail that experienced computer users will like is how Foxconn has provided HDD RAId driver diskettes with the motherboard. Having these necessary installation drives on CD is great... but that does not help when installing Windows. While there are a few minor things I did not like, there aren't really any major complaints about this motherboard.
In terms of performance, the Foxconn 955X7AA-8EKRS2 came in at exactly where I expected. SMP compatible applications like PCMark04/05, SYSMark2004 and the Winstone 2004 benchmarks saw a decent performance boost thanks to the dual core Pentium D 840 processor. The system still performed nicely in single threaded applications (mostly games), however hardcore gamers would be better served by getting a faster single core processor instead of a dual core at this time.
In terms of overclocking the Foxconn 955X7AA-8EKRS2 did pretty well, it reached 256 MHz FSB and brought the Pentium D 840 past the 4 GHz barrier. Hopefully Foxconn will allow for higher FSBs in future BIOS revisions, the 955X7AA-8EKRS2 is up to the overclocking challenge. With a retail price of $245 CDN ($204 US) the Foxconn 955X7AA-8EKRS2 is priced at a premium, but for that amount it comes with everything but the kitchen sink, and it's very quick on its feet!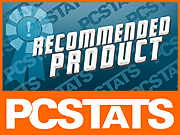 Find out about this and many other reviews by joining the Weekly PCstats.com Newsletter today! Catch all of PCstats latest hardware reviews right here.
Related Articles
Here are a few other articles that you might enjoy as well...
1. Gigabyte GA-8I955X Royal Intel 955X Motherboard Review
2. Gigabyte GA-8I945P Pro Intel 945P Motherboard Review
3. ECS PF88 Extreme Hybrid Intel/AMD Motherboard Review
4. MSI 661FM3-V Motherboard Review
5. Gigabyte GA-8N-SLI Royal NF4-SLI Intel Edition Review
6. Albatron PX925XE Pro-R Motherboard Review