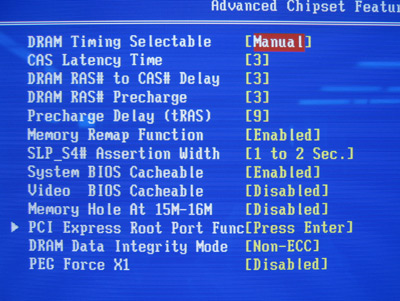 In the advanced chipset features section we see the memory timing adjustments, if you are a tweaker you will appreciate the ability to run tighter timings.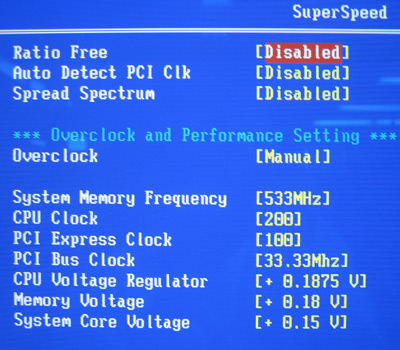 The Foxconn 955X7AA-8EKRS2 is not the most hardcore motherboard on the market, but its FSB options range from 200-265 MHz in 1 MHz increments. You can also adjust the PCI Express frequency.... however that one is best left alone. CPU voltage can be increased an additional 0.1875V, memory voltage 0.18V and system core voltage (chipset) to 0.15V. Up next, the benchmarks!

PCStats Test System Specs:
processor:

intel pentium 4 d 840
intel pentium 4 540

clock speed:

16 x 200 mhz = 3.2 ghz
16 x 200 mhz = 3.2 ghz

motherboards:

gigabyte ga-8i955x royal (955x)*
gigabyte ga-8i945p pro (945p)*
gigabyte ga-8n-sli royal (nf4-sli ie)*
albatron px925xe pro-r (925xe)*
gigabyte ga-8anxp-d (925x)*
msi 915p neo2 platinum (915p)*
dfi lanparty 875p-t (i875p)**
asrock 775v88 (pt880)**
via pt894 ref motherboard (pt894)*
ecs rs400-a (rs400)*
foxconn 955x7aa-8ekrs2 (955x)*

videocard:

msi rx800xt-vtd256e*
asus x800xt/vtd**

memory:

2x 512mb crucial ballistix pc5300 ddr2

hard drive:
40gb western digital special ed
74gb western digital raptor sata
cdrom:
aopen combo 52x
heatsink:
thermaltake jungle 512
powersupply:
seasonic super tornado 400w
software setup

windowsxp
via 4in1 4.55v
forceware 6.53
catalyst 5.4

workstation benchmarks

sysmark 2004
business winstone 2004
content creation 2004
super pi
sisoft sandra 2005
pcmark04
3dmark2001se
3dmark05
aquamark3
comanche 4
x2: the threat
ut2003
ut2004
doom 3
pcstats has upgraded its test platform with a couple of 74gb western digital WD740 Raptor hard drives, replacing the trusty 40GB WD IDE HDDs as test drives. Please keep that in mind when viewing the office and disk benchmarks. Note that this board was tested with the Intel Pentium D 840 CPU, while the remaining reference boards were tested with an Intel Pentium 4 540 CPU; both are clocked at 3.2GHz.