It's amazing how well equipped flagship motherboards really are these days. In the past, highly integrated motherboards usually meant zero to little upgrade capacity, and were usually targeted towards the system builder or integrator markets. With the Foxconn 955X7AA motherboard, we see that by the '-8EKRS2' acronym following the board model number it comes with pretty much every option a modern day computers needs, save for wireless LAN.
Foxconn, once primarily an OEM supplier, has turned towards the vastness of the retail market with a core offering of entry level to high end motherboards that are surprisingly hot for their complex alpha-numeric names. Looking at the specs of its flagship Intel 955X chipset based solution, the 955X7AA-8EKRS2, we're left quite impressed. The board supports up to 8GB of PC5300 DDR2 memory as well as 800/1066MHz FSB Intel Pentium 4, Pentium D and Pentium Extreme Edition processors.
Network connectivity comes care of two Broadcom Gigabit NICs, IEEE 1394a/b Firewire is taken care of with a PCI bracket, the board boasts an additional Serial ATA/RAID controller as well as an IDE ITE RAID controller, and finally, 7.1-channel audio is the work of Intel's 'High Definition' Azalia audio controller. If you need to upgrade, there is the standard PCI Express x16 graphics card slot as well as three traditional white 32-bit PCI slots for legacy peripherals and three PCI Express x1 slots for future high bandwidth devices.

Foxconn 955X7AA-8EKRS2 Motherboard

Includes:

Quick Installation Guide Users Manual, Driver CD, HDD Driver Diskettes, Two Ultra/133 IDE Rounded Cables, Two Serial ATA cables, One Rounded Floppy Cable, Two Molex Y Serial ATA Power Cables,IEEE 1394b bracket, USB Bracket, I/O Shield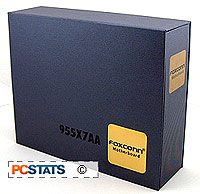 It's considered sound advice never to judge a motherboard by its packaging, but I think in this case the packaging used for the Foxconn 955X7AA-8EKRS2 motherboard is worthy of mention. The box is subtle, all black without the distinctive graphics we've come to expect on computer packaging, and self sealing with some integrated magnets.
Moving right along, with the number of ports and connectors integrated into the Foxconn 955X7AA-8EKRS2 the resulting board layout is pretty busy. However, everything seems be in an easily accessible location, without creating any major obstructions for any of the expansion slots.
With Intel phasing out the IDE standard from its Southbridge chipsets, it was nice to see Foxconn equip the board with an ITE IT8212F IDE RAID controller. IDE has been the HDD standard for the last twenty or so years, and it is not going to be replaced by SATA as fast as Intel would like. The inclusion of the extra IDE controllers allows this board to support up to six IDE devices, rather than just two. This enables uses with a lot of IDE devices to move up to a more advanced platform, without sacrificing older functional hardware.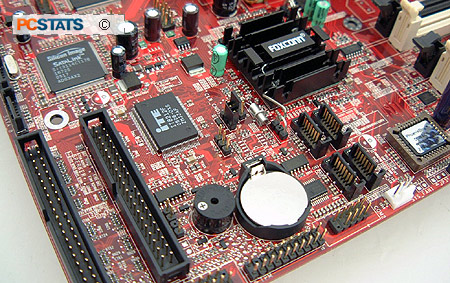 With that in mind, Serial ATA is the way of the future so we are also pleased to see Foxconn integrate an additional Silicon Image Sil3114 Serial ATA controller onto the 955X7AA-8EKRS2 motherboard. One thing is for sure, if you have a lot of HDDs or need a lot of storage space this model is definitely up to the task: eight Serial ATA and six IDE devices!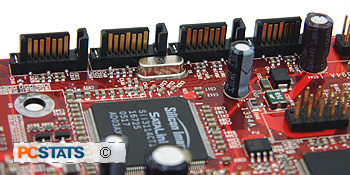 Since burst capacitors have become an issue with the long term stability of many motherboards (from every vendor), we're reassured to see primarily good quality capacitors used on the 955X7AA-8EKRS2board we tested. Around the CPU socket there are mainly Rubycon branded caps, while we find various brands else where on the board from TEAPO to Luxon, Lelon and KZJ.
Among the bundled goodies are some very nice rounded cables. The IDE cables that accompany the 955X7AA-8EKRS2 are the same high quality ones you find at modding stores that go for about $10 ea. The ones included have the individual wires cut and wrapped properly which allows the cables to mold very easily around corners. Two IDE rounded cables, and one Floppy drive rounded cable are included in the package.