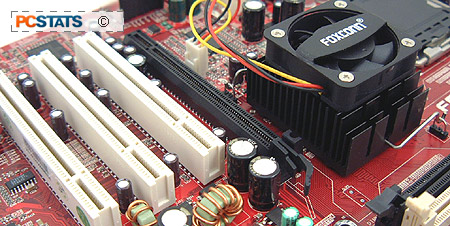 It may seem like a minor aspect to dwell on the fact that three hard drive RAID driver diskettes (one for each of the extra IDE and SATA HDD controllers on board, Silicon Image, ITE IDE and Intel SATA/IDE) are included with the motherboard, but once you start installing Windows onto this system and press that infamous "F6" key, you'll be glad they are handy.
The software suite that Foxconn includes with its board is good, including Norton Internet Security that will certainly help to keep users safe from potential problems and viruses. If Foxconn could only make the subscription last longer than 90 days...
Modern high performance chipsets can produce a lot of heat, but you need not worry about that with the Foxconn 955X7AA-8EKRS2 motherboard. The cooler on the 955X chipset is massive (well for chipsets it is) yet quiet. During testing the heatsink only got moderately warm to the touch. The Intel ICH7R southbridge is also pretty toasty , but this chipset is cooled with a little passive heatsink.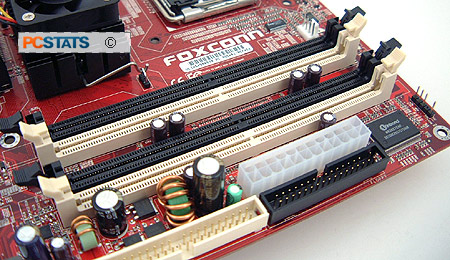 There is not much to complain about with the Foxconn 955X7AA-8EKRS2 motherboard. I guess if I'd to be picky, I would have liked Foxconn to equip the board with two PCI Express Gigabit NICs instead of using a Broadcom BCM5788 PCI network card for the second network controller. Sure, you would loose a PCI Express x1 expansion slot.... but other peripherals do not need as much bandwidth as a Gigabit connection. Foxconn should also get with the times and label that front I/O header.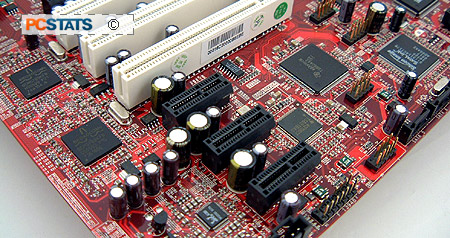 Having to refer to the manual or quick install guide is a pain when one is looking to hook up the power and reset jumper cables from the chassis quickly.
Overclocking the Foxconn 955X7AA-8EKRS2

Overclocking Results:
If you plan to overclock a dual core Intel system be prepared to deal with a lot of heat.... if you think a Prescott runs hot, just imagine what two under the hood is like!
Before we started to push the Foxconn 955X7AA-8EKRS2 motherboard, I first lowered the memory multiplier to 1:1, this way the memory would not limit the top speed of the board itself.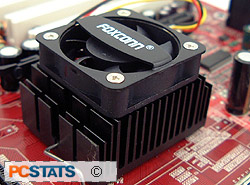 Starting at 200 MHz I increased the FSB in 5 MHz intervals and the motherboard seemed pretty up to the overclocking challenge.
We hit our first snag at 224 MHz and had to increase the CPU voltage 0.1V above stock. That settled things down quite a bit and the board turned out to be very overclocker friendly. We then hit another problem at 243 MHz FSB, and increasing the CPU voltage an additional 0.05V as well as increasing the System Core Voltage an additional 0.15V above stock, resolved that.
In the end the Foxconn 955X7AA-8EKRS2 went as high as 256 MHz stable, anything higher and the board would reboot randomly. Not bad considering we tested with an air cooled Intel Pentium D 840 processor. The CPU tends to run very hot when operating above 4 GHz!