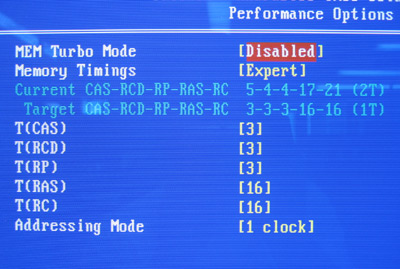 DDR2 memory timing adjustments are just as boring as regular DDR timings options, we have the usual CAS latency setting, RAS to CAS Delay and Row Precharge.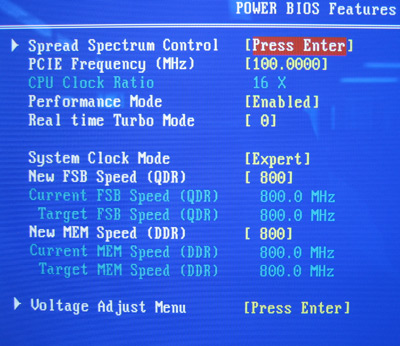 In the PowerBIOS section is where the overclocking magic happens. PCI Express frequency can be increased for stability's sake that is best left alone. FSB can be tuned from 600-1300 MHz (150-325 MHz FSB) and memory can be tuned from 400-900 MHz both in 1 MHz increments.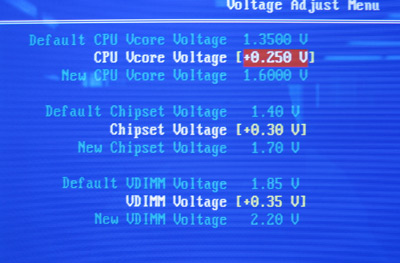 In the voltage Adjustment Menu we find the CPU chipset and memory voltage options.

PCStats Test System Specs:
processor:

intel pentium 4 d 840

clock speed:

16 x 200 mhz = 3.2 ghz

motherboards:

foxconn 955x7aa-8ekrs2 (955x)
foxconn 945p7aa-8ekrs2 (945p)
msi p4n diamond (nf4 sli)
epox 5nva+ sli (nf4-sli)

videocard:

msi nx7800gtx-vt2d256e

memory:

2x 512mb crucial ballistix pc5300 ddr2

hard drive:
74gb western digital raptor sata
cdrom:
aopen combo 52x
heatsink:
thermaltake jungle 512
powersupply:
akasa powerplus ak-p550ff psi
software setup

windowsxp
via 4in1 4.55v
forceware 6.53
catalyst 5.4

workstation benchmarks

sysmark 2004
business winstone 2004
content creation 2004
super pi
sisoft sandra 2005
pcmark04
3dmark2001se
3dmark05
aquamark3
comanche 4
x2: the threat
ut2003
ut2004
doom 3