The nVIDIA nForce4 SLI Intel Edition chipset is smoking fast and supports more features than the best core logic Intel has to offer... and the number one item on that list is most certainly SLI, and its ability to run twin videocards for gaming greatness!
If we take into account that consumers seeking to upgrade into a nice shinny Intel Pentium D processor based PC almost certainly need to buy a new motherboard, one that supports the dual cores, why not opt for a system based on the nVidia nForce4 SLI chipset? It sounds reasonable enough, and breaking away from Intel-built chipsets can yield some pretty nice benefits.
Motherboards like the Epox 5NVA+ SLI support Socket 775 533/800/1066 MHz FSB Pentium 4/D/Extreme Edition as well as Celeron D processors. The four DIMM slots can accommodate up to 8GB of unbuffered non ECC DDR2 memory running at 400/533/667 MHz, while operating in dual channel mode with 1.8V.
Epox also bundles a few on board goodies with the board such as Gigabit LAN, a 7.1 audio controller, IEEE 1394 and my personal favorite a Port 80 diagnostics card. If you need something the motherboard does not support, there are two free PCI Express x1 slots (three if you count the second PCI Express x16 slot when only running one videocard) and two open 32 bit PCI slots for legacy hardware. Of course, we must not overlook the two PCI Express x16 slots which will support SLI set-ups with the appropriate videocards either!

Epox 5NVA+ SLI Motherboard

Includes:

Driver CD, Screw Driver, Thermistor, MOSFET Heatsinks, Epox Sticker, Two White Rounded Ultra/133 IDE Cables, Floppy Cable, Two Serial ATA Cables, Two Molex to Serial ATA Power Cables, IEEE 1394a Bracket, USB Bracket, I/O Shield, SLI Bridge
The Epox 5NVA+ SLI motherboard is not overly flashy, but gets it right where it matters most. Like every other high performance board on the market, the 5NVA+ SLI is a standard 30 x 24.5 cm in size, and mounts to the motherboard backplate via ten screw locations.
Hardware enthusiasts will surely appreciate the power & reset buttons found directly on the motherboard itself.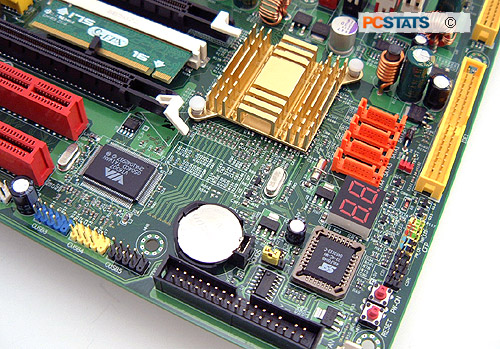 I don't know about you, but before I put together an entire system into the chassis, I like to test out the bare minimum first to make sure the vital parts are all working. Having dedicated switches makes things easier than shorting out two jumper pins.
SLI support on the Epox 5NVA+ SLI motherboard is implemented via a selector card like most other boards on the market. I would prefer that all motherboard manufacturers go with a switchless system, like MSI employs on the P4N Diamond or Asus with the A8N-SLI Premium, however it is not that big of an inconvenience to flip that little card. After all you still need to open the case to install the second videocard. ;-) To those who are not familiar with SLI, no driver install or upgrade is necessary, simply check one box on the nvidia drivers, reboot and you are set.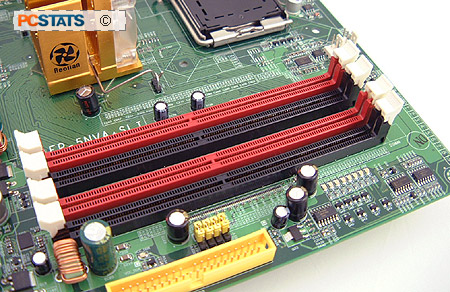 Epox uses many different type/brand capacitors with the 5NVA+ SLI motherboard. From the videocard style low profile capacitors found around the CPU socket and the motherboard's power plant to the regular style capacitors branded Sanyo, TEAPO and one identified with a capital M as a logo.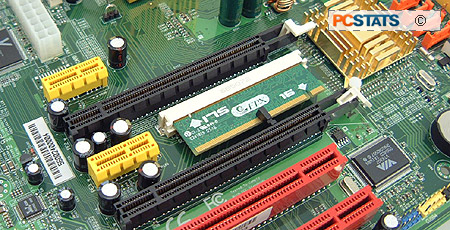 Epox has been bundling a whole load of goodies with its motherboards the last little while. For instance there is the Phillips/Slot screw driver that comes with four heads. User's don't even need to bring their own tools to install the motherboard since Epox bundles that for you. Because of its compact size it is also handy in other situations, and I carry the screwdriver in my back pack for emergency purposes.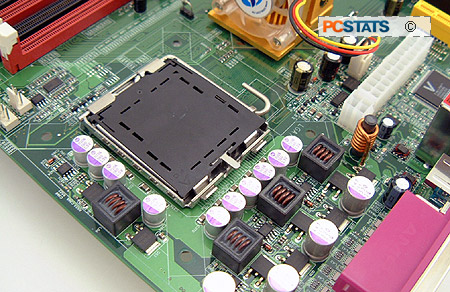 There are also eight tiny blue aluminum heatsinks which in this special pack of goodies which are useful in cooling small chipsets like MOSFETs, or clock generators. Epox also includes a thermistor probe which allows you to monitor the temperatures of other devices in your computer. The temperature shows up in the BIOS and in Epox's temperature monitoring software should you choose to install it. Also found in the box are a set of white rounded IDE cables, and matching white SATA cables.